Raising the bar: Incoming high school freshman undefeated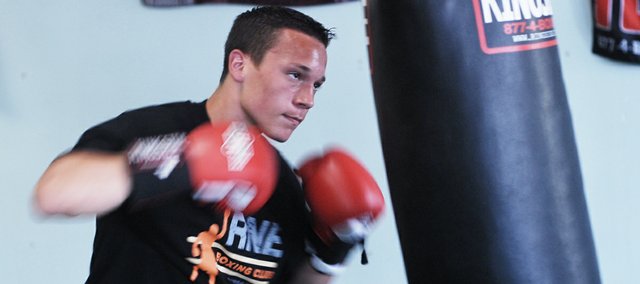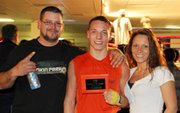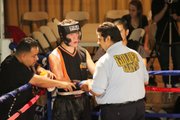 The way Jackie Harris saw it, herself having boxed from ages 3 to 10, she couldn't exactly say no when her 14-year-old son, Tyler Holland, expressed interest in joining the Shawnee boxing club that opened near their home last year.
"You've got to go meet them," said Tyler — then an eighth grader at Trailridge Middle School — of RNE Boxing's coaches. "I want to start tomorrow."
Still, Harris had reservations when coach Leo Moreno phoned her and said he wanted to find Tyler a fight after just three weeks of watching him train. Harris had seen what her 5-10, 163-pound son could do on the football field, where he looked like a man among children. She just hadn't yet seen what he could do in the ring.
So before she would agree to anything, she wanted to see him spar first. The time frame just didn't seem normal to her.
"But then he almost knocked the other kid out in the first sparring session," she said.
That was last fall. Today, Tyler is 5-0, having won the Junior Olympics State Championship in April and Junior Olympics Regional Championship in May. His age has been the only thing so far able to stop him. Next time, at 15, Tyler will be eligible to compete in the National Junior Olympics.
An out-of-town trip delayed Tyler's amateur boxing debut until February, when he boxed at RNE Boxing's Rumble in the Jungle. Looking back, Tyler doesn't pretend that he wasn't nervous walking to the ring. Something changed, though, when he stepped through the ropes.
"From there I kind of just went with it," he said, "And it ended up going the way I wanted it to."
Until that moment, Tyler had only competed in team sports — he still does and will play football this fall for Shawnee Mission Northwest.
The individuality and accountability ingrained in boxing is attractive to Tyler, he said. In the ring, Tyler can be himself. If he fails, he has no one else to blame.
"He told me 'Mom, I like this because it's just me,'" Jackie Harris said. "Win or lose, it's my fault. He had never thought that way before."
Tyler is among the more than 340 boxers awaiting news of where RNE Boxing will move after it closed its doors upon the expiration of its lease on July 1. Leo Moreno and his daughter, E-Lisa, herself a professional boxer and assistant head coach at RNE Boxing, may have a lot of uncertainty to deal with, but Tyler's future prospects leave no doubt.
"For him, if he continues with this, he can be a world champ one of these days," E-Lisa Moreno said.
One morning, Leo Moreno sat at his desk as he began plans to move out of the gym. When the subject of Tyler came up, he didn't hesitate in his assessment.
Leo lifted his finger and poked firmly at the silver boxing globe pendant hanging above his chest.
"Boy that kid has a heart," he said.
At first, Leo said, he'd have Tyler spar with the older boxers because of his size. He told the older boxers to take it easy initially, but then Tyler would pop them. Stunned, they looked at Leo, who gave them the green light to step it up. So did Tyler.
"He's only 14 years old and he hits like a man already," Leo said. "But he don't have that manpower yet."
Consider the possibilities.
There's no doubt, Leo said, that Tyler will start on the football team at some point this year. He's just too strong. But that doesn't mean boxing will leave his mind.
"When he's here, he don't look at it as a hobby," Leo said. "He wants this."
By the time football ends, Tyler said he'll return to training five days a week with sights set on nationals.
"It sparked," he said of his regional championship victory. "It just made me want to go even more and continue to fulfill what I can do."