Live Friday: Basehor-Linwood boys at Bonner Springs, 7:30 p.m. sub-state semifinal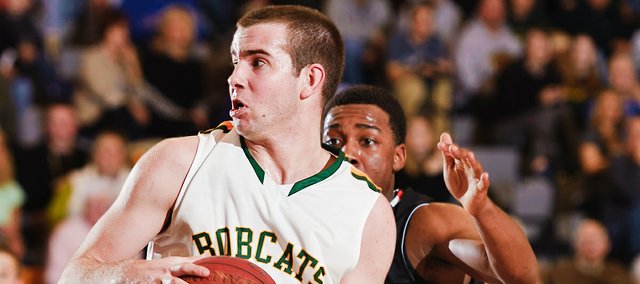 What they're saying
For additional commentary, check out Friday's column from KCKPreps.com, "Bonner Springs, Basehor rivalry far more than sports" and let us know what you think.
By late Friday, several questions surrounding the Basehor-Linwood and Bonner Springs boys basketball teams will have been answered.
For one, just how indicative was Friday's 62-50 victory by the Bobcats? It was the final game of the regular season with practically nothing on the line except bragging rights and a chance for an early look at a potential sub-state semifinal opponent.
And now that the two indeed find themselves matched up for the second time in six days, can Basehor-Linwood (18-3) knock off the Braves (16-5) for what would be the third time in the same season — and in Bonner Springs, no less?
And, of course, we'll know which team will be one step closer to qualifying for state. At times this year, Bonner Springs coach Andy Price — who will resign almost immediately after basketball season — has said his team is as good as any when it's clicking. Since losing two straight in January, Basehor-Linwood has played as good as any team in Class 4A, avenging its loss to Lansing on the road and winning nine straight by an average margin of 26 points.
On Tuesday, the Bobcats produced their highest offensive output of the season, defeating Perry-Lecompton in the first round of sub-state play, 92-51.
Playing Bishop Ward a fourth time, Bonner Springs received a slight scare early on in its sub-state opener, but eventually held on to advance to the semi-finals.
Because of a late stretch of successful foul shots by Basehor-Linwood, Friday's contest was closer than the final score might suggest. Bobcats senior Ryan Murphy scored a game-high 27 points, and Bonner Springs senior B.J. Watson led his team with 20.
Against the Braves earlier this year, the opponents also led their respective teams: Ryan Murphy scored a season-high 31 points, and Watson finished with 24 — including a late 3-pointer to pull within two points — in a 68-61 Bobcats victory.
Bonner Springs is 7-2 on its home court, its only losses coming against Basehor-Linwood on Jan. 11 and last month against Lansing. The Bobcats are perfect on the road, and clinched the Kaw Valley League title outright last Friday.
Let us know what you think of the action. Use #BonnerSports and/or #BasehorSports on Twitter to share your thoughts or to find the latest score. You can also tweet us photos from the game. By Thursday, you might find your tweet in the paper.
Also be sure to bookmark this page, as we'll have a live video broadcast from the game.