Sub-state title keeps 'dream season' alive for state-bound Bonner Springs girls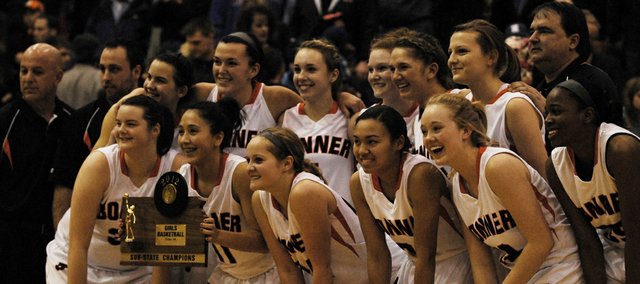 Photo Gallery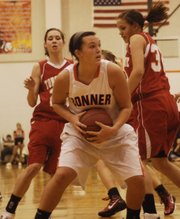 Bonner Springs girls win first sub-state title
For the first time in school history, the Braves girls basketball team is heading to state. See how they got there in this photo gallery.
State brackets released
The Kansas State High School Activities Association released its boys and girls state basketball tournament brackets on Sunday. No. 3 seed Bonner Springs will play No. 6 Pratt (18-4) at 4:45 p.m. on Wednesday in the first round at the Bicentennial Center in Salina. The winner will advance to play the McPherson/Girard winner at 3 p.m. on Friday. The state championship game will be at 4 p.m. on Saturday.
It took Bonner Springs girls basketball coach Clay Oakes a little longer to return to the locker room this time.
Between the photos and hugs and tears that followed Saturday's 4A sub-state championship victory against Tonganoxie, Oakes made his way off the court telling everyone who approached, "We made it baby."
The Braves' 58-50 win extended what Oakes called an "unbelievable dream season," improved Bonner Springs to 22-1 and earned the team's first trip to the state tournament in school history.
As they've been wont to do all season against the Chieftains — the league opponents have each played twice this year, both wins by Bonner Springs — junior Anna Deegan and senior Yessenia Hernandez were again a special offensive duo, combining for 38 points.
Down 4-0 early, the Braves went on a 12-0 run to take a lead they wouldn't lose.
Still, it wasn't as if the Braves could coast to a first-place trophy Saturday.
The two teams played perhaps the most physical of their three contests this year. All told, 47 fouls would be called — 26 on Tonganoxie, 21 on Bonner Springs.
The Chieftains closed the gap in the second quarter with two early 3-pointers to pull within three points. Senior Amanda Holroyd scored six points in the quarter, including one of the team's two 3-pointers. She'd hit another 3-pointer late in the game to finish with nine points.
Deegan, who has been working on her outside game late in the season, responded with a 3-pointer of her own.
"She kept them from getting on a big run during any period of the game," Oakes said.
Junior Haley Hoffine's second of four fouls — five Braves had three or more fouls in the game — soon sent Holroyd to the line, where she tied the game at 14-14.
But any momentum would stay with the Braves as Hoffine and Hernandez also provided 3-point daggers of their own in the first half.
That half would be the difference in the game. Bonner Springs held a 29-21 halftime advantage, but each team's third- and fourth-quarter point totals would be identical.
On the strength of Junior Jenny Whitledge — who led the Chieftains with 12 points and 10 rebounds — Tonganoxie again pulled to within four points early in the third quarter and Deegan would be sent to the bench for much of the period after she picked up her fourth foul. Still, Hernandez scored seven points for the Braves to keep them ahead entering the fourth quarter.
In the final frame, the Chieftains came out on a 4-0 run to pull within two possessions again, but a Holroyd foul on Hernandez and a string of turnovers kept the game out of reach. The Braves were clutch at the line, as all 14 of their fourth-quarter points came from free throws. Senior Erica Wilson converted 5-of-6 of her attempts in the game's final moments.
Playing their final game for Tonganoxie, Holroyd and Tavia Brown each scored nine points.
"Win or lose, you're always going to remember that last game," Tonganoxie coach Randy Kraft said of his team's three seniors — the other being Haley Smith, who finished with five points.
"I thought all three of them played really well tonight and represented themselves well, so they'll have fond memories of that."
The Chieftains had little time to wipe away tears and get over the disappointment of the loss before they would be handed the runners-up trophy and be asked to pose for photos. Smiles returned when they locked arms one more time and celebrated the end of their 16-7 season.
"It's been several years since we've been to state or even been in this championship game," Kraft said. "It was great to get them back to that level again."
The Braves will know early Sunday who and when they'll play to open the state tournament.
In the meantime, Oakes will savor the continuation of a year he said has flown by.
"It's hard to believe that we're at the end right now and we're one of the eight left," he said. "This is what they've all been working for. It's what I've been working for."