Dickson aims to succeed longtime Leavenworth County Treasurer Young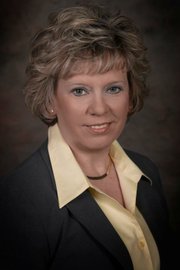 In 2013, a new Leavenworth County Treasurer will take office for the first time in 15 years.
But Janice Dickson, who hopes to be that new treasurer, said she just wants to follow the example of the official she would replace, Janice Young.
"Janice Young has done a great job," Dickson said, "and I just want to try to continue her efforts."
Dickson, who serves as deputy county clerk, filed last month to run for the county treasurer seat as a Republican. Young has said she will not run for re-election. She was appointed to the office in 1998 and has been elected three times since.
Dickson said she has the support of Young and of County Clerk Janet Klasinski, in whose office she works as second-in-charge.
Klasinski said Dickson's 10 years of experience in the clerk's office would help her as county treasurer. The two offices work closely together.
"I think the knowledge between the two offices from working together is a real asset," Klasinski said.
Working in the clerk's office, Dickson helps calculate the property taxes that the treasurer's office then collects. The main responsibilities of the treasurer's position — overseeing the collection and distribution of taxes, as well as motor vehicle registration — are pretty cut and dry, Dickson said.
"It's probably about the least political position you can have," Dickson said.
One area where the treasurer has a bit of leeway, though, is in encouraging good customer service for county residents who pay taxes and register their vehicles, she said. And she'd like to make sure that service continues to improve.
"All you can do is try to work with the taxpayers as best you can on whatever issue may come up," Dickson said.
The next treasurer will also need to help the department make the switch to new vehicle-registration software that will be used statewide, Dickson said. The system will also be used by law-enforcement agencies and insurance companies.
Dickson has worked as deputy county clerk for three years, and she was executive secretary for the Leavenworth County Commission for seven years before that. Last year Dickson completed training through Wichita State University's Sanborn Institute, a development program for county clerks. She plans to continue her education through the institute's Master Academy, as well.
No other candidates have yet filed to run for county treasurer. The new treasurer will be elected this fall but will not take office until October 2013.
The primary for this year's county, state and national races is Aug. 7, and the general election is Nov. 6. The filing deadline is noon on June 1.