It's over: Box's resignation ends council standoff, leaves Basehor with 2 elected officials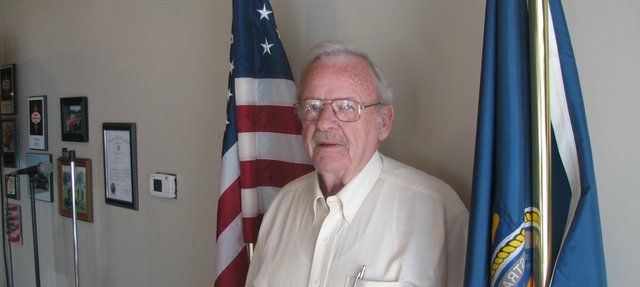 When it came down to it, Fred Box said, it wasn't worth losing any friends.
That's why, he said, he announced his resignation from the Basehor City Council on Monday night. His departure marked the end of a 90-minute stalemate among council members, and as of midnight it left the city with just two of the six elected officials it had before Monday evening.
But Box said he hoped it would also help the city begin to heal from months of political fighting that was threatening to turn neighbor against neighbor in this town of about 5,000.
He knew he had friends sitting in the audience who disagreed with him. And so, he said, it just wasn't worth fighting anymore.
"My friends mean more to me than that," Box said.
Before Box's announcement, a work session with no agenda items had stretched on for an hour and a half and threatened to last until midnight, when Mayor Terry Hill and City Council members Dennis Mertz and Iris Dysart were due to be removed from office following a recall vote last week. The council had voted down 12 motions to adjourn as Mertz fought to move the council into a regular meeting so that it could take action, while Hill refused to allow it.
Audience members shouted at the council members and the mayor, and the officials talked over one another.
Hill said he believed Mertz intended to appoint Box as the council's new president, ensuring that he would become mayor after the midnight deadline passed and Hill was removed. But the mayor said such an action would be inappropriate after residents had just thrown out half the city's elected officials.
"Two members have been recalled, and I have been recalled," Hill said. "This council does not need to make a decision for the city."
But Mertz, Dysart and Box again and again voted to reject motions to adjourn, refusing to back down.
"Mayor, we can do this all night," Mertz said at one point.
The mayor said the city could not make any decisions at a work session, which is intended for discussion only; Mertz said the council had done so before, and officials with the League of Kansas Municipalities said the city would not face any penalties if the council voted on something. City Attorney Shannon Marcano said the city should follow its policy and stick to discussion only; Mertz read from an email from Marcano from last fall, saying the council did not need to revote on decisions it had made during work sessions in the past.
Hill said he would not allow a vote, even if it meant waiting until midnight.
But when the council returned about 8:30 p.m. after two recesses of about a half-hour each, the battle was over. Box announced his resignation, and adjournment attempt No. 13 passed by a 4-0 vote, the council deciding unanimously to close the book on this chapter in the city's history.
In a resignation letter he read aloud, Box said he didn't believe he could serve the city the way he wanted to under the city's new mayor, whomever it might be.
"There has been corruption in the city administration long enough, and I desire to no longer be a party to it," Box said.
But he said, too, that he wanted the city to move on from the recall election and the fighting that surrounded it.
"This city has got to get back to operating correctly," Box said.
Last week, Hill denied a request from Box, Dysart and Mertz to have a special meeting. Dysart said the purpose would have been to appoint Box as the council's new president and, therefore, the city's next mayor.
Box was the third council member, along with Mertz and Dysart, to vote for the surprise firing of former City Administrator Mark Loughry in September — the action on which the petition seeking the recall of the two council members centered. Leaders of the recall effort said last fall that the only reason they did not also seek to recall Box was that state law forbids the recall of a majority of the city council at the same time.
After the session adjourned, Hill asked for the standing-room-only audience to remain as he, Dysart and Mertz gave parting thoughts. Dysart thanked residents for allowing her to serve for nearly nine years on the council, Mertz said he was proud that the city had purchased the Field of Dreams athletic complex with his support during his time in office, and Hill said he believed the city would recover from the negative attention it had received during the recall process.
"My apologies go out to all the citizens of Basehor that did not deserve what has just happened to this city," Hill said.
Following Box's departure, Basehor's only remaining elected officials are now council members David Breuer and Travis Miles. They will have to choose between themselves a new mayor and then appoint four new council members.
Miles said he wanted to appoint new members through an application process, so as many people as possible could put their hats in the ring.
"There's a lot of people out there in the community that are more than qualified to fill a council seat," Miles said, "and a lot of them, I don't know who they are."
Breuer said he appreciated Box's attempt to patch up the tensions among council members, and he was glad the evening had ended on "a little bit calmer note."
"I just hope that we can get back to doing city business," Breuer said, "and try to move forward as a city."