Bobcat girls win fifth-straight, boys third-straight powerlifting state title as three records fall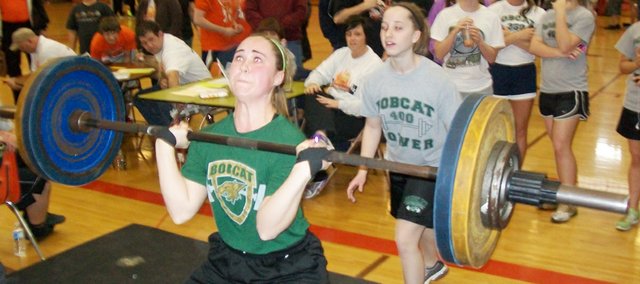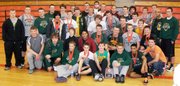 Three girls broke state records and both the girls and boys Basehor-Linwood powerlifting teams remained firmly entrenched as the state's top programs after the 4A state championship meet in Abilene on Saturday.
The girls won their fifth in a row and the boys won their third straight state title.
"I think the kids have really started to take pride in it," Basehor Linwood strength and conditioning coach Ross Schwisow said.
Schwisow said the meet was the school's most successful boys performance at state. Personal records were set and points scored after several Bobcats placed in the top six. In all, 20 of the 38 boys finished in the top six in their weight classes among a field of more than 200 male lifters. Of the 35 girls who competed, 26 finished in the top six among a field of about 150 female lifters.
Courtney Leive, Katey Trower and Mallorie Belk all set new state records at the competition.
Leive, the meet's top 140-pound lifter, set a state record with her 175-pound hang clean. Leive also finished first with a 255-pound squat.
Trower, the meet's top 148-pound lifter, set a state record with a 160-pound bench press in her class. Her 250-pound squat was also the best in her class.
Belk earned a state record with her 195-pound hang clean.
Sixteen individual lifters either won their class or won an individual lift. Leive and Trower also won both of the "lifters of the meet" awards in the lightweight and middleweight divisions, respectively.
Dakota Edmonds (first overall), Danae Leppke and Alex Gorman also placed first overall or in an individual lift.
Five boys lifters finished first overall: Jonathan Oliva at 114 pounds, Eric Purrington at 123 pounds, Russell Clark at 132 pounds, Deric Brannan at 148 pounds and Trevor Hickman at 220 pounds. Austin Sinclair, Jacob Peterson, Alex Shewmom, Jacob Boyer and Drew Potter also earned first-place finishes in individual lifts.
Heading into the meet, Schwisow said he set a goal of having five boys hang clean more than 300 pounds. Come Saturday, seven recorded hang cleans of more than 290 pounds.
"It's just phenomenal for high school kids," he said.