Sporting Kansas City about to kick off 2012 season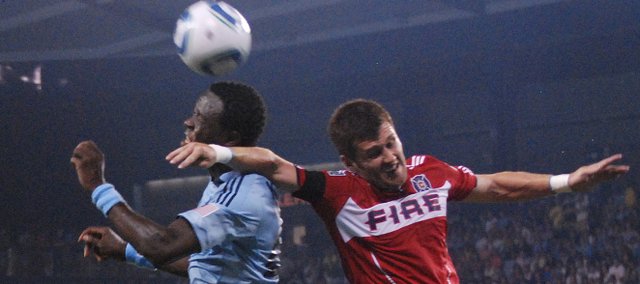 Sporting Kansas City begins its season at 6:30 p.m. Saturday at D.C. United, returning to the site where the team secured a first-place finish in the Eastern Conference in 2011.
On Tuesday, Sporting Kansas City began training at the team's training center in Swope Park. Training sessions, which are open to the public, are also scheduled for 10 a.m. Wednesday and Thursday. A 9 a.m. session is scheduled for Friday before the team departs for Washington, D.C.
The season-opener can be seen on KSMO-TV.
Sporting Kansas City will return for its home opener against the New England Revolution at 7:30 p.m. March 17 at Livestrong Sporting Park.
Before it kicks off at home, the team also will host an exhibition match against Rockhurst University at 7:30 p.m. March 13 as part of its media day activities.
The team will look to build off a 2011 season in which it reached the Eastern Conference Finals — a 2-0 home loss to eventual champion Houston Dynamo — and saw forward C.J. Sapong earn Major League Soccer's rookie of the year award after scoring five goals and five assists.
Designated player Omar Bravo was the team's biggest departure after 2011, when he returned to the Primera Division in Mexico. In 27 regular-season appearances, Bravo scored nine goals and two assists en route to an All-Star selection.
The team reloaded in the MLS SuperDraft on Jan. 12, selecting forward Dom Dwyer with the 16th pick and defender Cyprian Hedrick with the 30th pick in the draft.
Dwyer, 21, scored 16 goals and two assists in 21 matches with the University of South Florida. A London native, Dwyer also earned NJCAA National Player of the Year Honors in 2010, his second of two seasons at Tyler Junior College. Hedrick, 22, earned Big South Defensive Player of the Year honors while at Coastal Carolina University, and capped his career with a NSCAA Men's Collegiate Scholar All-American first team selection.