Basehor dog-grooming business moves into stand-alone shop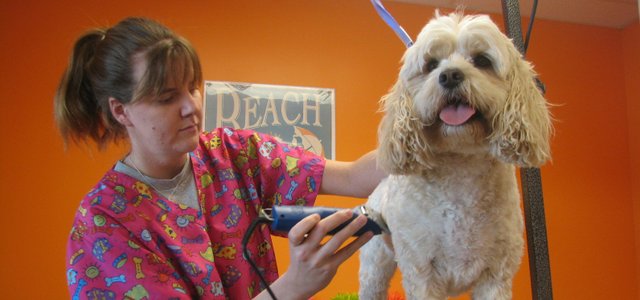 A plaque on the wall of Wagg'n Tails Day Spa in Basehor lists about 20 names. It's a memorial to canine clients who have died since the business began in 2008.
Those memories reflect the attitude of the dog-grooming shop, owner Amber Anderton says.
"We fall in love with our clients, every one of them," Anderton said.
Anderton said she's had more and more of those clients to fall in love with recently. The increase in business, along with an ambition to offer more products and services, is why she moved her business from a building nearby that also housed Safe Harbor Pet Boarding & Day Care to a stand-alone location in a new retail building at 15630 Pinehurst Drive in Basehor. The location opened in January.
"We just got so busy grooming that I ran out of space," Anderton said.
The move also allowed the business to transform from just a grooming service into a pet "boutique," selling grooming products, food and accessories that pet owners can't find at many department stores or pet shops, Anderton said.
"We try to be different," Anderton said.
Anderton said she hoped to give the shop the feel of a beach, with brightly colored furniture and wall decorations.
Friday afternoon, Tonganoxie resident Sandy Etherton dropped into Wagg'n Tails to pick up Molly, a blue heeler-Australian shepherd mix, after her first grooming session there. Etherton said she was glad when she spotted the new shop from U.S. Highway 24-40 earlier this year, as before she had driven 45 minutes to a groomer near Eudora.
Etherton said she needed a groomer that took Molly's quirks into account and got to know her.
"I want to take her somewhere where they understand that she's nuts," Etherton said.
By summer, Anderton said, she hopes to hire an additional staff member or two so the shop can offer more services — cat grooming and dog training. For now, the only other hands available are her father and sister.
The shop is open from 7:30 a.m. to 5 p.m. Monday, Tuesday, Thursday and Friday and 8 a.m. to 2 p.m. on Saturday. To make appointments for their pets, customers can call (913) 724-3700 or visit the Wagg'n Tails Day Spa Facebook page.