Bonner Springs girls advance to state semi-final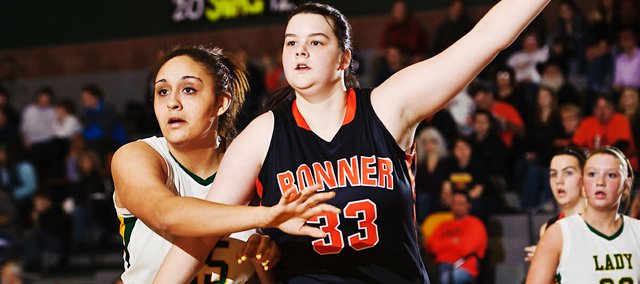 With Emily Wilson as the anchor, Bonner Springs was able to continue its remarkable season by making quick work of Pratt and move on to the 4A state semifinals.
Wilson led the Braves with 13 points and 11 rebounds in a 51-44 victory against the Greenbacks in Wednesday night's first round matchup.
Nothing was particularly clicking for Bonner Springs (23-1), but then Pratt wasn't running smoothly either. Each team shot less than 40 percent from the floor and 70 percent from the foul line.
Understandably so, the first half was a tight one. The Braves led by a point after the first quarter, then the Greenbacks found some life to take a four-point lead in the second quarter. The fouls were adding up on both sides, but Bonner Springs still had Yessenia Hernandez.
In the final minutes of the half, she hit back-to-back three pointers for the Braves and a free throw, leading a 9-1 run going into the locker room, along with a 23-19 lead. Hernandez finished with 11 points.
The second half was more of the same as Bonner Springs pounded Pratt inside. By the end of the third quarter, the Braves were up by 12 and there was a sense that this game was theirs for the taking.
But the Greenbacks found life in the waning minutes when the Braves missed several free throws, narrowing the gap to five with two minutes left.
By then, the free throws started falling for Bonner Springs and it was able to ice the victory and advance, where it will face McPherson 3 p.m. Friday. A live broadcast of the game will be available on bonnersprings.com.