Listen Live: Bonner Springs vs. Pratt, Class 4A state tournament, 4:45 p.m. Wed.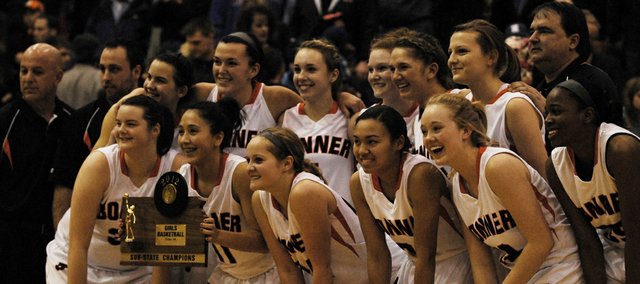 On Wednesday morning the Bonner Springs girls basketball team will embark, accompanied by a police and fire escort out of the school lot, on its first trip to the Class 4A state tournament.
Listen to a live audio broadcast of the No. 3 Braves (22-1) compete against No. 6 Pratt (18-4) at 4:45 p.m. on Wednesday in the stream above. A report of the game will follow later on Wednesday on bonnersprings.com.
Meanwhile, read about how the Braves got here in this recap from Saturday's sub-state title victory against Tonganoxie, and view a photo gallery from the game.
And be sure to use #BonnerSports to tweet your thoughts on the game, and to find the latest updates.