Students receive special visit, pajamas for Read Across America day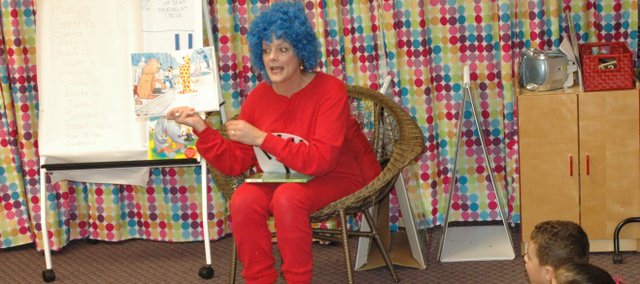 The most popular question of the day Friday for Jennifer Botteron was "Where is Thing 2?"
"He was being bad — we kept him in the big red box," she explained, with a shake of her blue hair. "It was him that was flying kites in the house, not me."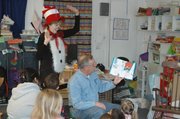 Read Across America Day was a bit more special this year for the preschoolers at Bonner Springs Head Start thanks to Botteron and her friends, Judy Miksch and Debbie and Merle Parks. The group gathered together to provide each of the 68 students a set of pajamas, and Botteron and Miksch even dressed up as Dr. Seuss characters The Cat in the Hat and Thing 1.
Jeri Cochran, director of Head Start, said the children at the school have had a pajama day for Read Across America literacy day for the last couple of years, but this is the first time someone in the community has stepped forward and provided new pajamas for the students.
"It was new and exciting for the kids, and they were excited to change at school and wear them all day," Cochran said.
Miksch said she got the idea to organize pajamas for students at Head Start, which serves low-income families living at or below the poverty line, after seeing a report about similar project on television.
"I didn't really have a plan at all, but Jennifer and Debbie, they were the ones that really came together and helped me," Miksch said.
So the trio got the sizes each student would need from Head Start teachers and gathered some funding through friends. Then they started searching for good deals on pajamas.
"We just went out and started finding them, begged and pleaded," Miksch said.
The Merriam Old Navy and WalMart in Lawrence gave them deep discounts, and on Friday, they arrived with a pair of pajamas for each student. They said seeing the students' excitement over the pajamas was rewarding.
"One little kid had worn her pajamas, and she said 'Do I have to wear these, or can I put the new ones on?'" Miksch said.
While the Parks came along to read the children stories, Botteron and Miksch decided to take it a step further with homemade costumes for the Dr. Seuss characters. It isn't the first time the duo has jumped at the chance to dress up for children.
"We used to teach together, so we were always the 'dress-up' people, because that's just how we operate," Miksch said.
Miksch often was asked if she was the "real" Cat in the Hat, and Botteron was repeatedly asked the whereabouts of her twin, Thing 2.
"The children really enjoyed Cat in the Hat and Thing 1, and one of the kids as they were leaving asked, 'Can you come back?'" Cochran said. "It just brought reading alive for them to actually see it animated that way."
Botteron and Miksch said they have decided to make their participation an annual event.
"Next year we're going to start earlier and try to get more friends (to donate funds)," Miksch said.
"And have a Thing 2 — that was a mistake," Botteron joked.