FINAL

: Basehor-Linwood advances to semi-final round with 67-58 win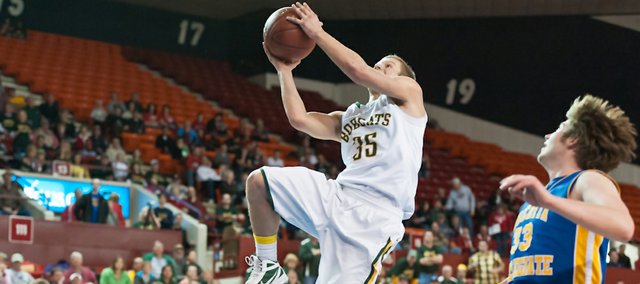 This time senior Colin Murphy couldn't buy a field goal. Against Wichita-Collegiate in the first round of the 4A state tournament in Salina, it didn't matter.
Colin Murphy hit all 10 of his free throw attempts to help pull the Bobcats away and Ryan Murphy finished with 17 points and 10 rebounds in a 67-58 Basehor-Linwood victory.
The Bobcats (21-3) advance to play No. 1 seed Pratt (24-0) at 4:45 p.m. Friday in the tournament's semi-final game.
Basehor-Linwood bounced back from a 20-15 first-quarter deficit to hold the Spartans to just eight points in the second quarter. Each team took turns holding a narrow lead until the Bobcats put together a 26-point fourth quarter.
Coach Mike McBride said the team came out a little star struck at the start, but the Bobcats soon got a lot of production from its younger contributors.
Chase Younger scored 10 points off 5-of-13 shooting, and Ben Johnson and Tanner Garver each added seven. J.P. Downing also scored five points.
"That's what you hope for this time of year," McBride said.
Up next, the Bobcats will get Pratt, which features in Micah Swank, the tournament's highest scoring player. Before the Bobcats took the court, Swank scored a record 41 points in an 85-70 win against Coffeyville.
McBride said it often gets overlooked, what with all the words afforded to the Murphy twins' play, that Basehor-Linwood features a relatively young squad, starting two sophomores.
After Thursday, just about everyone on the squad has now logged significant minutes under the bright tournament lights.
"They all feel like they belong now," McBride said.
Stay tuned to basehorinfo.com, and use #BasehorSports on Twitter for updates from Salina on Friday.