A night with the heroes and villains of
KCK

's Metro Pro Wrestling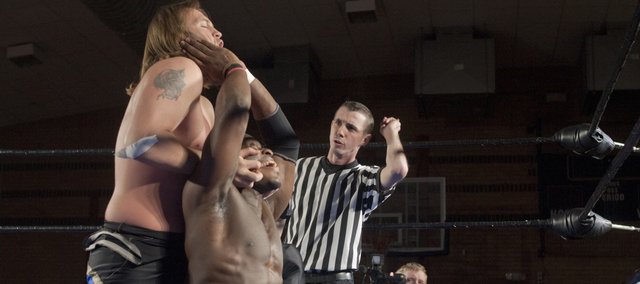 Backstage, a group of costume-clad men in their 20s — and some in their late 30s — get ready for the show.
A small but muscular blond man wearing only tights does calisthenics in the hallway. They call him "Dingo."
He's allegedly from Australia, the flag of his native land emblazoned on the backside of his tights.
A middle-aged man, wearing pajamas, a wig, eyeliner and a neck brace hobbles around. He looks a like an aging, poor man's Jack Sparrow, and they call him the "Magic Man."
"Do they want me injured or uninjured?" the Magic Man says gruffly, trying to decide if he'll need the crutch.
A group of four men — two clean-cut guys in super hero tights and two short, pudgy, scraggly men — talk shop and lightly smack each other on the chests.
Inside the Turner Recreation Center in Kansas City, Kan., 250 rowdy fans wait for this cast of characters to emerge from behind the curtain.
Fans will be treated to three hours of humor, choreographed violence, loud thuds, hair pulling and loosely scripted conspiracy theories.
In other words, a typical Saturday night in Metro Pro Wrestling.
'Showtime'
The first kick to the groin won't be launched until a good half-hour after the show begins.
First, two wrestlers strut to the ring amid a chorus of "boos!" as rock music blares. Just like in the old days of professional wrestling, it's still the good guys vs. the bad guys. Carrying championship belts, Jeremy Wyatt and Bradley "Showtime" Charles are clearly bad guys.
They get heckled by the crowd. A few of the fans spew expletive-laced tirades at Wyatt and Charles.
Wyatt gives it right back.
He asks the camera guy if they're getting one raucous fan on camera, then turns to the fan.
"He needs the air time. It's been a while since his family's been on 'COPS,'" taunts Wyatt, who's as ready with the one-liners as a seasoned comedian. Nothing is out of bounds for Wyatt. He picks on one man, pointing out some missing teeth. Another portly fan gets a wisecrack about cholesterol.
It's all in good fun, and the hecklers seem to revel in the witty banter.
There's some kind of story line playing out that's a little difficult to follow. Wyatt and Charles allude to an "alliance" they're working on. At various points during the show, a gray-haired man in a suit and knee-high galoshes cruises around the ring with a microphone. He talks about a commissioner election and alleges some form of untoward shenanigans about the voting.
As the first match gets under way, "Showtime" begins grabbing his braids and mimics his head being jerked back, accusing his opponent of illegally pulling his hair mid-move.
The bald referee, however, has no sympathy, and neither do the fans.
The spectators, who include a wide mix of young and old, male and female, hang on every word.
They're a dedicated crowd, said Chris Gough, who brought Metro Pro Wrestling to the area in 2010. Gough scurries around coordinating the live show, then produces a television version of the monthly shows for Time Warner Cable's Metro Sports.
After graduating with a broadcast journalism degree from the University of Missouri, Gough spent about six years working for the World Wrestling Federation, or the WWF — now known as the WWE — including several years on the creative writing team.
Gough moved back to the area in 2003 to work for Metro Sports, where he produces and anchors numerous sports shows. He loosely scripts the storylines and gives the wrestlers wide latitude to improvise during the shows.
The Metro Pro roster includes about 35 wrestlers, such as "The Danimal," "Hoodlum and "Viking Warrior."
The colorful crew can be lumped into three categories, Gough said.
Some wrestlers are working their way up the independent wrestling circuit, traveling the country trying to catch the eye of the WWE; a few others have had their 15 minutes of fame on big time television but just can't give it up.
And the third batch?
"A lot of them are just weekend warriors," Gough said.
'Redneck who loves to fight'
Trevor Murdoch has seen the big stage, spending several years wrestling in front of thousands for the WWF. Today, he's closer to his Eldon, Mo., home, wrestling for Metro Pro and a host of other independent wrestling circuits.
At 33, he looks 10 years older, his knees covered in scars. He says the boots cover up the bruises.
"I get beat up really well," he says, laughing.
At about 6-foot-3, 260 pounds, Murdoch, in tights and a cutoff flannel shirt, looks nothing like the muscle-bound wrestlers seen on TV.
Flabby, with an emerging beer gut, Murdoch says his appearance has always played well with his character: the blue collar, moral enforcer.
"I'm basically just a redneck that loves to fight," he says.
When asked to describe his character, Murdoch says, "Right is right, and wrong is wrong."
He's just there to make sure people abide the golden rule and treat one another kindly, he says.
At age 20, Murdoch trained to be a welder. Six months later, homesick, he returned to his childhood hometown of Fredericktown, Mo. His brother was starting an independent wrestling company, and Murdoch signed up. He's been hooked ever since, rising to the biggest stage in professional wrestling.
But after a few years, his body and character wore out on national television, and now he's back on the small circuit.
None of it seems to bother Murdoch, who talks about giving fans an economical entertainment option on the weekends; tickets range from $5 to $20 here at Metro Pro Wrestling.
"I hope they come in here for the two and a half hours and forget everything," he says. "Hopefully they can identify with us in a certain way that helps them relax."
Murdoch, one of the good guys, gets a roaring ovation from the crowd when he enters the ring. His blue-collar character contrasts perfectly with that of his opponent, a loud-mouthed husky man in a black and pink spandex singlet who calls himself "Mr. Saturday Night."
"Don't you know who I am?" Mr. Saturday Night screams at the crowd.
Murdoch's first move of the match is a quick kick to Mr. Saturday Night's backside. The crowd loves it.
'Mad Dog'
At age 32, Mark "Mad Dog" McDowell, took up professional wrestling.
He was a football and track athlete growing up, and always liked wrestling. So he dived in head-first, despite the late start.
"Once you stop is when you start aging," says McDowell, now 37. "And I'm not ready to age yet."
Last year, McDowell put about 16,000 miles on his car driving from his Des Moines, Iowa, home to various events across the country.
At about 300 pounds, he looks less like an athlete and more like the kind of guy you wouldn't mess with in a bar fight. His body is sure to take a thrashing in the ring.
"Everything hurts, but you just keep going," he says.
Mad Dog is a fan favorite, and with mutton chop sideburns, he plays the gentle giant.
"But just like a mad dog, if you turn your back on him, you're going to get bit," he says.
Greeted by a chorus of "woof woof," McDowell enters the ring. As the announcer calls out the weight of his opponent, Neil "Diamond" Cutter, it's clear where this is headed.
"At 145 pounds ... " booms the announcer.
The match is filled with humorous moments, as Cutter, maybe 5 foot 3, tries unsuccessfully to lift McDowell. One time, Cutter jumps from the turnbuckle for a flying attack of some sort, and McDowell calmly catches him, mid-air.
But to even the match, Cutter gets a little help from his friends, the rag-tag tag-team duo known as the "Hooligans." Pot-bellied, with shaved heads and scraggly beards, the Hooligans sneak to the ring and beat up on McDowell as Cutter distracts the referee.
McDowell overcomes his sneak attack and eventually smothers Cutter for the win. Afterward, a sheepish Cutter shies away from a post-match handshake, fearing another beating.
But McDowell is sincere and convinces Cutter so.
At his age, McDowell reluctantly acknowledges that he'll probably never see the big stage of professional wrestling; he'll be stuck in old high school gyms fighting pint-sized opponents.
"Probably, but it doesn't matter," he says.
Part theater, part athletics, McDowell can't get enough.
"You're in that ring, you've got everybody in the palm of your hand," he says. "It's kind of like a drug."
Heroes for Hire
During the work week, James Reynolds, 28, works "a factory job."
His good friend, Zach Thompson, 26, works at a gym, greeting people and handing out towels.
But nearly every weekend, the two drive from Des Moines to small gyms across the country and become super heroes.
"Typical comic book. Truth, justice," says Reynolds of his character, Jimmy Rockwell, who teams with Thompson as the wrestling tag-team partners "Heroes for Hire."
In the ring, wearing Batman and X-Men tights, the acrobatic duo look the part. But up close on level ground, they stand under 6 feet, about 160 pounds. Maybe.
So they have to be athletic, orchestrating high-flying moves in the ring. And their clean-cut appearance and good-guy image fits well against their rougher opponents.
"We're the classic, clean heroes, and they're the dirty villains," Thompson says about the night's opponents, the Hooligans. "It's perfect."
Despite their small statures, the Heroes for Hire don't seem resigned to performances in small gyms on the independent circuit.
"I just want to do as much as I can," Reynolds says. "The bigger the show, the better."
Their friendship has been built over six years of wrestling and traveling together. While it helps to be in sync in the ring, getting along with each other is more important on those long trips.
"Someone you can stand to sit by," says Reynolds.
"And split gas," pipes in Thompson, adding that they're lucky to break even on their trips. Pay varies in Metro Pro, and wrestlers can make anywhere from $50 to $500 a performance.
On the long drives, the two go over story ideas for their shows.
"You're building the story of the match," Thompson says. "And it helps to have an honest, friendly ear. It's easier to shut it down if it does suck. And easier to put an idea out there if you're friends."
In the ring, they work together on their acrobatics; one lifting the other to the turnbuckle for a flying maneuver.
When one gets in trouble in the ring, it's easy to believe that the other half — straining over the ropes for a tag — just wants to help his buddy out.
More than anything, they say the ring provides a nice escape from the 9-to-5 work week grind — for themselves and the fans.
"I'm dressed up like Wolverine right now," Reynolds says. "I'm going to fight two rough dudes. It's going to be great."