Bobcats' title run a story with several chapters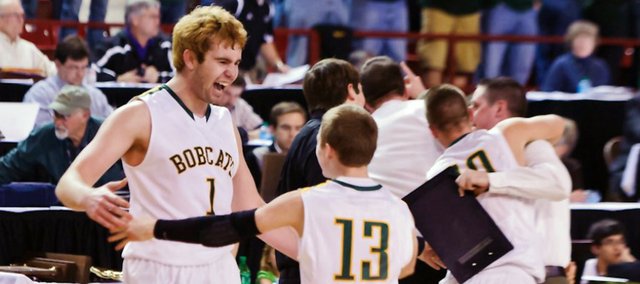 Real-time coverage
Read our Storify recap of the game, including Tweets and photos from the game provided by readers. Is one of your tweets on there?
Photo Gallery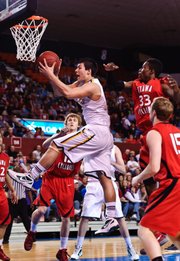 Basehor-Linwood wins the 2012 4A state title
The Bobcats avenged a third loss — and the only one left to avenge — to win the 2012 4A state title. Basehor-Linwood jumped out to a big lead and held on to defeat Ottawa 56-52 on Saturday, March 10.
Salina — This is how it ends. Sophomore J.P. Downing biting a white towel, blood soaking through. A third and final loss avenged. The Murphy twins choking back tears, each taking turns clutching the 4A state championship trophy.
And coach Mike McBride, having won his second state title since 2009, lifting his arms in the air, signaling the student section to go crazy.
"There's going to be lots of crying in that locker room," McBride said as he filed through a cloud of green, black and yellow.
Basehor-Linwood 56, Ottawa 52.
This is how it ends, but where do you begin to tell the story?
You could start with seniors Ryan and Colin Murphy, each having eclipsed 1,000 points in their careers, now raising a trophy they've waited to claim as their own after playing supporting roles as freshmen on the 2009 team.
McBride has always liked to say that they possess much more personality than they show. And on Saturday, as if on cue, there was Ryan Murphy, typically unemotional, screaming after hitting one of his two 3-pointers, and running back down court with three fingers waving.
Ryan Murphy helped engineer a second quarter in which the Bobcats (23-3) shattered a 13-13 opening-period tie by outscoring the Cyclones 21-8 entering halftime.
For the first time in the tournament, after back-to-back comebacks were required because of slow starts, it appeared McBride would be getting the complete performance he had been asking from his kids all weekend. But like this? A 21-8 run against Semi Ojeleye — a 6-foot-7 nightmare who averaged 29 points per game in Salina and whose team smoked its semi-final opponent by 29 the night before?
As they left the court at the break, McBride and the Bobcats knew the final 16 minutes of the season wouldn't be that easy.
•••
The end of an era is an easy starting point for this story, but this game's outcome wouldn't have been possible without the play of sophomore guards Chase Younger and J.P. Downing.
Younger led the Bobcats with 18 points in the championship game, and Downing — playing with a busted lip — came up with the decisive block as time expired.
Younger shot 12-of-17 in the tournament, and hit three 3-pointers in the title game, prompting McBride, for the second-straight night in Salina, to describe him as a kid whose veins coarse with ice.
"If it wasn't for him, we wouldn't have won this game," Ryan Murphy said.
Added junior Ben Johnson: "We wouldn't have won like that without their shooting. It's really special to have them."
After the Bobcats handed Pratt its first loss of the season in the semi-final round, a game in which two straight third-quarter baskets by Younger helped erase the Greenbacks' advantage, McBride said that little had been made of his team's overall youth this year. What with the Murphy twins providing as much a sense of continuity as a team could have, their experience, production and leadership seemingly counting for double that of what they already possessed.
But in Salina, the Bobcats would need 30 and 21 minutes from Younger and Downing, respectively. And there was Younger, hitting 3-of-5 3-pointers and giving the Bobcats the early boost they'd needed. And, in Downing, the Bobcats now have The Swat, an all-ball block of an Ottawa 3-point attempt with 9 seconds left.
•••
This story is also told with Ben Johnson standing atop the scorer's table. Time has expired and his arms are outstretched, stoking the Basehor-Linwood section in the few seconds before he'd be pulled back down by officials.
"I got a little too happy," he said later with a wry smile.
The 6-foot-5 junior came alive offensively throughout the tournament. All season, the Bobcats have gotten a few baskets here and there from Johnson, but his dominance had mostly come from under the glass and on defense.
Johnson, along with Younger, recorded a team-high 30 minutes of play and scored nine points and four rebounds in the championship game. But it was Johnson's last bucket in the game's final 49 seconds that will be talked about for as long as this team is talked about.
By that point, the Cyclones had indeed stormed back. Ojeleye was unstoppable, which was pretty much a formality. He finished with 32 points, highlighted by a thunderous dunk and three 3-pointers that came from a mile away.
"We knew he was going to get his," Johnson said.
McBride shook his head and laughed after the game when asked what the team's plan was for handling Ojeleye.
He's going to get his, McBride echoed. Knowing that, the Bobcats intended on shutting everybody else down, and they did, limiting the Cyclones' supporting cast to just 6-of-19 from the field.
It still wasn't enough to avoid one more edge-of-your-seat, lump-in-your-throat finish.
With a minute left, Ojeleye drilled an impossibly-long 3-pointer to tie it 52-all. But then Johnson got another crack at playing the hero one night after the moment was erased by a controversial call.
McBride would say that it was almost as if Johnson willed his shot in, with 49 seconds left, to put Basehor-Linwood up for good.
"It's kind of how this team has been all year long," he said.
It's why Johnson had to do everything he could to keep his composure while the Bobcats converted free-throws earned from Ottawa fouling to stop the clock in desperation. It's why when it was all over, he couldn't contain himself.
Johnson thought he had the game-winning basket the night before. McBride thought so, too. But he was whistled for a travel, negating the basket and forcing overtime against Pratt.
At that moment, Johnson turned to the referee and, jokingly, said "You took my game-winner away from me."
"Well," the referee said, "maybe you'll get another chance."