Seniors finding several ways to give back to community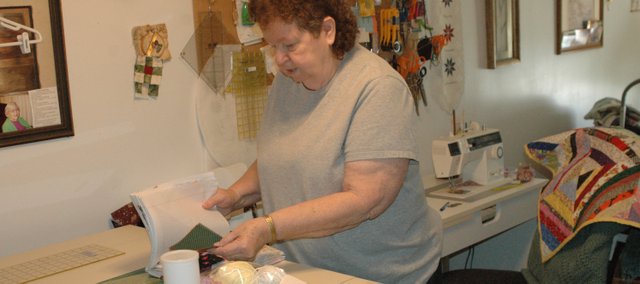 The Missions for Newborns volunteers aren't the only ones sewing and knitting for others at Nettleton Manor.
Jean Bush and Betty Spalding are turning lifelong sewing hobbies into ways to give back to the community.
Spalding has been a long-time quilter— she jokes that she has a quilting workshop at Nettleton Manor, not an apartment — and the amount of fabric scraps she has accumulated from her hobby is impressive
"When I'm gone, no one in my family will want all of this," she said, motioning to a closet full of scraps, "and it doesn't look like much, but you can make it into something."
Spalding pieces together her scraps to make quilt tops, and then takes them to a Tonganoxie quilter to complete the quilts before donating them to a ministry group at Zion United Church of Christ in Kansas City, Kan. The church has a ministry that provides the quilts to Steppingstone Kansas City, an organization assisting young, homeless adults, and to the homeless teens boarding at Connelly Hall in Kansas City, Kan.
Bush donates her sewing in myriad ways — whether she is sewing pillows for Alzheimer's patients at Presbyterian Manor or sewing items for the Bonner Springs City Library.
"The last thing the library had me do was for (the book) 'Llama Llama Red Pajama,'" Bush said. "Have you ever tried to find a pattern for a llama? They don't exist."
But Bush said she really enjoys giving back to the community, and she thinks it would be good if the older residents in town could donate their time and sewing knowledge by passing it along to the younger generations.
"I was thinking maybe we could do something once a month to teach some of them to hand sew," she said. "There's so many people who don't even know how to sew a button on."