Seniors give back while sitting down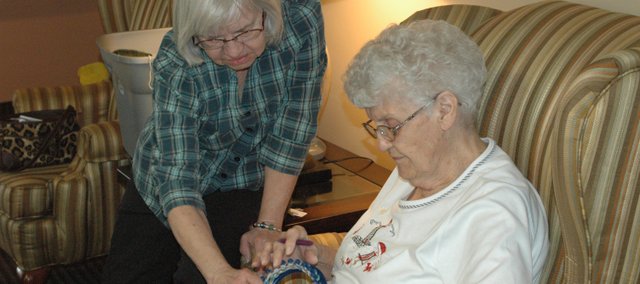 Dorothy Barnhart held up the knitted cap triumphantly for the group to see.
"That's two," she proclaimed, showing the product of her weaving yarn on a tool called the "Knifty Knitter," which she only recently learned how to use.
"Very good, Dorothy — I'm proud of you!" Lila Bailey complimented.
"Me, too," Barnhart replied.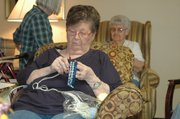 Bailey and Barnhart are just a few of the dozen or so women who have been meeting on Monday mornings at Nettleton Manor to knit and crochet baby hats and booties for the local Missions for Newborns group. The group wants to show that while their age may limit their ability to get out in the community in some ways, they can still give back.
"We just want to do something for the community, not just sit here (as though we are) in an institution," Bailey said.
Bailey organized the group after meeting the founder of Missions for Newborns, Judith McGhee, through another sewing group. She thought it sounded like a great activity for residents at Nettleton.
"I just did it because I wanted to meet everyone in the building, so I had selfish reasons," Bailey said.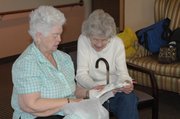 But they found that getting together socially while at the same time providing to a good cause has brought a little excitement to the building, which provides housing for seniors.
"Since the first meeting, they've been literally giddy — going to each other's apartments to show off what they've finished," said Myrtle Bailey, site manager for Nettleton Manor.
FPD Management, which operates the property, offered to provide refreshments for the group, which is currently meeting at 10 a.m. on Mondays in the building's lobby and is open to those who do not live in the building.
McGhee attends and brings along a few of the members of other Missions for Newborns groups in Bonner Springs and Edwardsville to help those who haven't used a Knifty Knitter before — a loom tool that makes knitting the hats fairly easy.
McGhee started Missions for Newborns in late 2009 hoping to provide every baby born at area hospitals with a handmade hat and booties. They donate the items to St. John's and Providence hospitals in Leavenworth and Kansas City, Kan., as well as the Kansas University Hospital.
McGhee is providing a few spare Knifty Knitters for now, but Lila Bailey has taken it upon herself to order a few for the group. She has used her own crocheting skills to make some much-needed booties, which require a bit more skill, but she hopes to show more residents at Nettleton Manor how easy the Knifty Knitter makes it to help with hats.
"A lot of them think they have to be able to sew, and I just have to keep convincing them that it's easy," she said.
Lila Bailey takes an active role as the recruiter during the group's meetings — whenever she sees a resident, male or female, wander into the lobby, she immediately pounces, trying to get them to join the group. But her tactics seem to be working.
"Last week there was a lady who sat down and said, 'Oh, I can't do this,'" she said. "And now she's been making all sorts of hats."
Some members of the group already are giving their time and sewing talents to benefit the community: Betty Spalding creates quilts for teens who were abused or orphaned, and Jean Bush sews activity pillows for Alzheimer's patients. But the Missions for Newborns group is allowing them a greater sense of fellowship and camaraderie. Looking over the group assembled Monday morning, Lila Bailey glowed with pride.
"Look at these ladies; isn't this just wonderful?" she said. "It's so neat to have everyone together."