Crews finish work to remove semi trailer from ditch on U.S. 24-40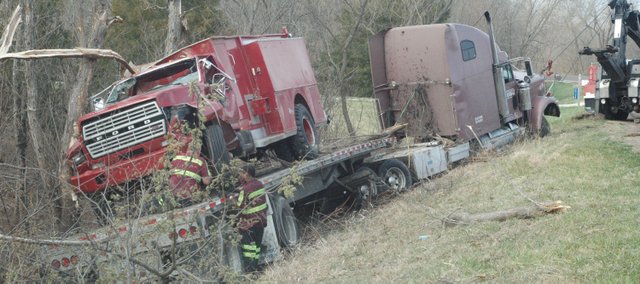 An accident involving a semi trailer carrying a fire truck caused traffic to be reduced to one lane Thursday morning on U.S. Highway 24-40.
The accident occurred about 5 a.m. Thursday when Paul C. Banister, 58, Osceola, Mo., lost control of the vehicle and went into the east ditch, according to Leavenworth County Sheriff's reports. Banister told officers he swerved to miss a person or animal walking along the road. The accident happened near County Road 27 and U.S. 24-40 about 5 miles south of Tonganoxie.
Banister was taken by Leavenworth County Emergency Medical Service to Lawrence Memorial Hospital with minor injuries, reports said.
The fire truck was thought to be a decommissioned vehicle, according to the sheriff's office.
Traffic was reduced to one lane about 8 a.m. when towing services arrived on scene. Crews still were on the scene Thursday afternoon and traffic remained at one lane. Kansas Department of Transportation officials said crews also were tending to a possible fuel spill, but the scene was cleared mid-afternoon.
Reno Township firefighters also were on scene.