Basehor combining three
KDOT

-funded projects into one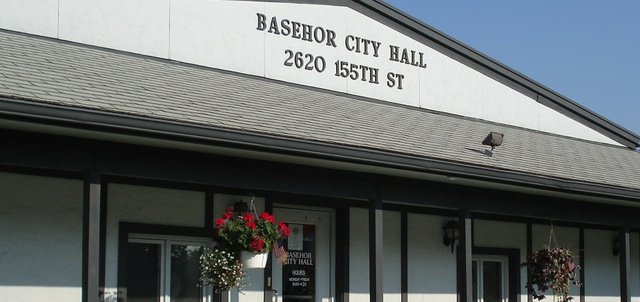 Basehor will roll three state-assisted road construction projects into one $3 million endeavor after one of the first decisions made by its new-look City Council on Monday night.
The new council agreed, 3-0, to combine the planned extension of Wolf Creek Parkway with improvements between that new road and U.S. Highway 24-40 on 155th and 158th streets, creating one larger construction project.
The three projects are estimated to cost about $3 million altogether, new Mayor David Breuer said, but the city's share will amount to about $760,000. The rest of the funding will come from grants offered by the Kansas Department of Transportation.
The combined project would likely take place in summer 2013.
City engineer Mitch Pleak told council members that rolling the projects into one would save the city nearly $70,000.
"There is an ability here to save the state money, save us money and have a safer project," Pleak said.
The engineering firm currently designing the Wolf Creek Parkway extension — Affinis Corp. of Overland Park — has already surveyed some of the land that would be affected by the construction on 155th and 158th streets, he said, so allowing the firm to continue with the those projects would provide savings.
Breuer noted that the city's portion of the cost would come from its Consolidated Highway Fund, which is funded by sales and gas taxes, and not property taxes.
In another vote, the council agreed for the city to assist KDOT on another project: the installation of a stoplight at the intersection of U.S. 24-40 and 158th Street.
The council voted 3-0 for the city to acquire the necessary right of way for the state to install the traffic signal. The state will reimburse the city for the funds used, Pleak said.
KDOT announced plans to install the signal in December 2010, after years of effort by the city and other groups to improve safety at the intersection. Tonganoxie teenager Amanda Bixby died in an accident at the intersection in 2007.
Breuer said Monday the city should work to have the light installed as soon as possible to prevent further accidents.
"It's very important that that (stoplight) gets put in there," he said.
Pleak said the state likely would need the city's help in order to install the signal by the end of the year.