March Madness tests allegiances among three Kan. teams' fans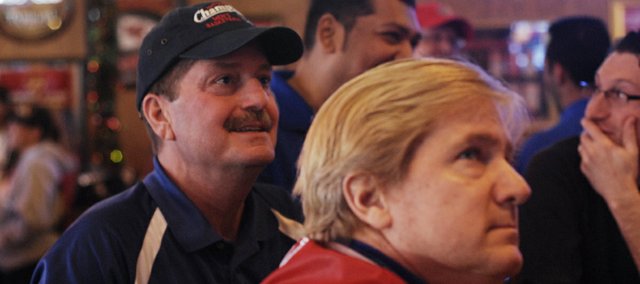 A week ago, when the Madness began, all three of the Sunflower State's Division I college programs entered the NCAA Men's Basketball Championship tournament with visions of cutting down nets.
Now, just one remains, but for those first few frenzied days, allegiances were tested and team apparel was worn throughout an area where paths converge.
Family ties
Bonner Springs High School senior B.J. Watson, weeks after concluding his high school basketball career, put his phone away before Kansas State University tipped off against the University of Southern Mississippi in the opening round on Thursday.
Since the brackets were unveiled the Sunday prior, B.J. had received an earful from his K-State-supporting friends. After all, those Wildcats fans knew they were ribbing the younger brother of the opposing team's leading scorer.
"I told my friends I wasn't taking nothing until after the game," B.J. said.
Neil Watson — B.J.'s older brother, who graduated from Sumner Academy in Kansas City, Kan. — had led the Golden Eagles in scoring this season while coming off the bench. True to form, he did the same against K-State, with 16 points and three assists.
The game, a 70-64 Wildcats victory, was nerve-wracking and a little too close for comfort, B.J. said.
He sat at home with family and watched his older brother's No. 9-seeded Southern Mississippi team take a late 45-40 lead only to succumb to an 18-6 K-State run.
"It was a tough loss," B.J. said.
After the loss, B.J. told Neil he was proud of him and how much of an inspiration he has been to him and their little brother, A.J.
Now deciding between a pair of community colleges at which to continue his playing career, B.J. is seeking to continue down the path paved by Neil, who played at Coffeyville Community College before transferring to Southern Mississippi.
"I want to be in that same spot one day," B.J. said.
Not an hour after the first-round game ended, B.J. was back in the gym working on his shot.
Outnumbered
The Wildcats' run ended against No. 1-seeded Syracuse on Saturday.
On vacation in San Diego, Basehor-Linwood High School junior Cameron Kennedy staked out a spot in front of the television in his family's hotel room in time for the 9:15 a.m. Pacific Standard Time tip-off.
Both of Cameron's parents graduated from K-State, and the family has football season tickets.
Cameron said he watched the first-round victory against Southern Mississippi on his phone at school, but couldn't see the end because he had a pre-calculus test.
"That game made me nervous about the rest of the tournament because (Rodney) McGruder and (Jordan) Henriquez had to carry the team to get the victory," Cameron said.
Sure enough, with senior Jamar Samuels held out against the Orange because of an eligibility issue, the Wildcats' fell short despite many giving them a chance at the upset.
By Cameron's estimate, KU fans outnumber K-State fans about 75 percent to 25 percent in Basehor. Before spring break, he said, there was a lot of talk about brackets, but Cameron kept the trash talk to a minimum.
"I don't say much until the games are final," he said.
As for trading barbs with fans of his team's in-state rivals, Cameron said there's little point engaging Jayhawks supporters.
"KU fans live to brag about basketball," Kennedy said, "so I just ignore them."
Déjà vu
Josh Collins, a photographer for KCTV-5, couldn't find a group of Wichita State alumni to gather and watch the Shockers' first NCAA tournament game since 2006.
But as he watched Virginia Commonwealth University — yes, the same team that knocked KU out of last year's Elite Eight — pull off another shocker, he found a sympathetic ear in his wife, herself a KU grad.
"It was killing me," Collins said.
Collins, a Roeland Park resident, pointed out that not only was this the same VCU team that upended Kansas last year, but the Rams defeated Wichita State in the play-in game to begin their improbable 2011 run.
"We thought this was our chance to get them back on such a big stage," Collins said. "Everybody had a feeling that this was our year."
After the No. 12-seeded Rams defeated the No. 5 Shockers, 62-59, on Thursday, Collins was back pulling for the Wildcats and Jayhawks.
Years of ineptitude will do that, he said. Before the Shockers' program turned around, Collins said he would always back each Kansas school.
"And whoever's playing MU," he added.
Count Collins among the suddenly-swelled group of Norfolk State apologists.
Party on
Sean Haydock, the Shawnee Johnny's Tavern owner, was back at the bar and restaurant by 8:30 a.m. on Sunday, the morning after St. Patrick's Day.
"This is definitely our busiest time of the year," Haydock said.
Haydock began working at the original Johnny's Tavern in Lawrence more than 20 years ago, then as a student at KU.
The Lawrence institution eventually added eight additional locations to allow KU fans and alumni a chance to gather and watch the game from Lawrence all the way to the Power and Light District of Kansas City, Mo.
It's Johnny's Shawnee location, 13410 W. 62nd Terrace, that Haydock said best captures the feel of the nearly 60-year-old original, thanks to its batch of regular clientele.
One day after St. Patrick's Day, a marathon of a day for any local establishment, Haydock returned to take stock of Johnny's products, making sure no tap would run dry when the Jayhawks tipped off against Purdue later that night.
And although Johnny's sports a traditionally partisan KU crowd, Haydock said the place was hopping for K-State's second-round loss against Syracuse on Saturday.
"There was a lot of purple in here," he said. "We certainly welcome that. I'm going to miss that business."
With KU still in it, Haydock said the routine for game day is old hat for him by now. There's also a routine for patrons who hope to grab a seat for the game, he said.
"They usually have to get here a couple hours early to get a prime spot," he said. "There's just an electricity around game day. You make a day of it — especially if they win. Then the party's on."