After chemotherapy, Bonner Springs senior dives in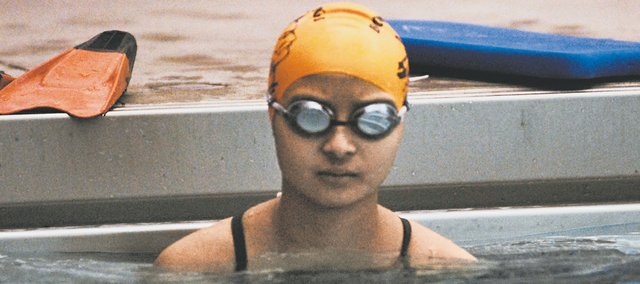 Yesterday was a bad day.
Scintilla Capalla, a Bonner Springs High School senior, got sick at lunch, shortly after her latest dose of chemotherapy treatments.
Yet here she is, back in the YMCA pool behind the school, arms extended, hands gripping a blue kickboard as the water boils at her feet. An orange swim cap, emblazoned with the school's Braves logo, fits snugly and conceals a patch of short, fine hair.
She's working on a round of kick sets at the beginning of a girls swim team practice. Her younger sister, Akiko, a freshman, joins her in the same lane while coach Lynn LaNoue shouts instructions over '90s rock music blaring out of a boom box.
LaNoue wants the girls to raise their faces out of the water for air only once every three strokes.
"Go, Scintilla, let's go!" LaNoue shouts.
With much of the school in Salina for the girls basketball team's state tournament first-round game, it's a more intimate practice this early-March afternoon, allowing LaNoue to spend more time working with Scintilla and Akiko.
A pair of tight-fitting goggles wrap around Scintilla's eyes, emitting a metallic glow as she takes off up the pool, kicks off the wall, and heads back down the path, mouth agape as she looks for air.
LaNoue hands her a pair of flippers for her next exercise, but she needs to take a breather.
"Take as much time as you need," LaNoue says.
•••
Just months removed from breaking her school's track and field record in the 3,200 meters, Scintilla sat in shock as her mother relayed the results of her biopsy.
Huh? Do you mean I have cancer?
"It did not sink in to her," Connie Capalla, Scintilla's mother, remembers. "The next day she was crying."
It was mid-July 2011 when they found out. In the months prior, Scintilla had started to plateau, her times no longer improving. What began as a pain in her right knee would not let up. It followed her to bed when she tried to sleep and became indignant when confronted with physical therapy.
X-rays turned up nothing. Initial feedback from doctors assured more therapy would stop the pain. Assurances of normalcy gave way to news that Scintilla had a six-centimeter tumor in her right knee. She had osteosarcoma. Bone cancer.
•••
LaNoue looks across the pool at a large, blue timer as he tells Akiko to be ready to take off when it hits the 45-second mark, and for Scintilla to follow at 55. LaNoue walks alongside the swimmers as they work their way up the pool.
When Scintilla surfaces, LaNoue simulates how he'd like her to stroke through the water. In response, her arms cut the surface like scythes.
Turning drills, exercises to strengthen the girls' proficiency in transitioning back up the pool, follow. LaNoue lies on his back and brings his legs up in a 90-degree angle as if he is sitting in a chair. He wants them to be in that position as they turn and kick off the wall back up the pool.
On her first few attempts, Scintilla sinks underwater.
"That's all right," LaNoue said, smacking his hands together. "You're getting closer to the wall."
He wants her to snap and turn more, and on her last attempt, Scintilla pulls it off.
"OK," LaNoue says, "do you want to work on diving next?"
Akiko wants to work on diving into the pool correctly. It's the preeminent act of any diving competition, a formality that makes possible being in position to execute all the other skills you've spent hours honing.
Akiko and LaNoue walk to the end of the pool, Scintilla follows, a slight limp in her gait.
You must deal with your fear of the water, LaNoue tells the girls. Everyone thinks it is going to hurt.
Arms out, palm over palm, Akiko takes an initial stab at diving in. As she watches her younger sister, Scintilla has brought her hands together close to her face and is shivering.
Her immune system on the mend after months of treatments, Scintilla takes little time to become cold outside of the pool.
"The water's not going to hurt you when you dive in," LaNoue repeats to Scintilla when she approaches the edge.
Palm over palm, head tucked slightly below her outstretched arms, Scintilla drops into the water and takes off up the pool.
Scintilla first approached LaNoue while the boys swimming team practiced for the state competition.
When she could, she would make her way to the pool on crutches, sit them aside and hobble over to the ladder.
"She just takes her wig off and gets in the water and goes," LaNoue said.
While the boys warmed up, Scintilla would ask LaNoue for pointers on improving her stroke. He assigned her a few basic drills, and she later joined the girls team for conditioning after the boys finished their season.
"At first, she told me she didn't want to compete," LaNoue said, "And I said 'Why not?'"
•••
Scintilla endured a total of 32 weeks of treatment, including an October 2011 surgery to remove her tumor. Connie and Scintilla's father, Jose — both being nurse practitioners — each have seen the toll cancer and, ironically, treatment of the disease, can take.
"I take care of patients after chemo and I see them really get sick," Connie said. "They can't function. I was relating all that to my daughter."
But the Capallas said the surgery and treatments went as well as could be expected. Scintilla did feel tired all the time, she did lose her hair and develop blisters and sores toward the end, but after it all, Jose still joked that the biggest challenge was slowing her down at home.
Despite the car rides to and from Children's Mercy in Kansas City, Kan., for chemotherapy, Scintilla insisted on being back at school the next day, and, more recently, back in the pool.
"I think she has a lot of fighting spirit," Connie said.
Scintilla's doctor left it up to her whether to start running again, but cautioned that it might not be the best idea for her knee. It wasn't an easy transition for someone who had invested three years in running track and cross-country with considerable success.
Scintilla said she got back into the pool when she felt well enough so that she could rehabilitate her strength and, maybe, give herself hope to start running again.
"If I can't run again, then at least I could swim," she said.
Lately, Scintilla has started to make peace with the idea of her competitive running career ending. Her coaches tell her they don't think it's over, but she said she doesn't see herself running in college.
Scintilla said she plans to pursue pre-pharmacy studies at Kansas City Kansas Community College before transferring to a university.
Though sad that she may do so without being a part of her college's track or cross-country teams, it's also in its own way a relief, she said.
Scintilla didn't want her running career to define her.
•••
Sharon Dodge, a YMCA instructor who worked with Scintilla when she was a lifeguard at the pool, locked the pool equipment room as the Bonner Springs girls swimming team began practice.
Dodge shook her head as she looked across the pool at Scintilla starting on her first lap.
"When she started back swimming, she was in a wheelchair," Dodge said. "And…c'mon, are you kidding me?"
Life's not fair, Dodge said. That one of the brightest girls in the school, the girl who always had a smile and a greeting whenever you saw her, had to go through this, is not fair.
"She is a jewel," Dodge said. "I don't know anybody else that would do this."
At first, Scintilla was discouraged in practice. But, she said, by the end of each practice she feels humbled, a rewarding feeling prevailing.
Her kicks aren't as strong as that of her teammates, but she is still improving. Before the season, LaNoue honestly didn't know how it would all play out. Just three weeks after the start of practice, he calls Scintilla's progression "dramatic."
Scintilla said swimming with her younger sister in these first few weeks has motivated her to swim faster whenever Akiko appears far ahead of her. She said it's sad sometimes to see her younger sister beating her, but it's OK.
When she leaves the pool, Scintilla said she looks forward to the next day. If she has time over the weekend, she'll practice even more.
"I'll be better on Monday," she said. "Yeah, Monday will be better."
•••
Scintilla's last day of chemotherapy was March 11. The next morning, when her parents woke up, they couldn't find her. She was back in the pool.
Later, Scintilla shook her head and said she should've left a note that morning. She said a "stern talking to" waited for her after school. But Connie laughed when she retold the story in their kitchen later that evening.
Not long after the story, Scintilla returned home from a walk, the sun spilling over her as she entered the driveway.
"There she is running around again," Connie said as she stood in the doorway watching her daughter outside.