New Basehor City Council member Drennon advocates calm, cooperation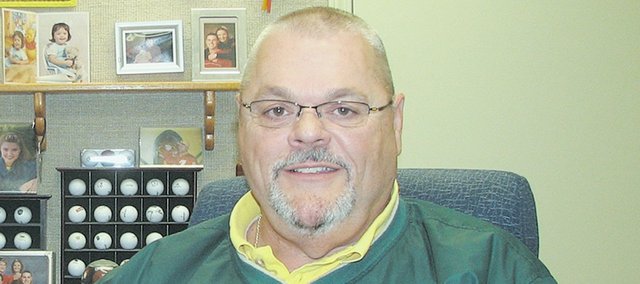 Related document
Two more spots available
Two Basehor City Council seats remain to be filled during the council's April 16 meeting, and the city is inviting residents to apply.
Applications are due at noon March 30. Forms are available for download below, or they can be picked up at Basehor City Hall.
Related document
Editor's note: This is the first of two stories introducing readers to the two new Basehor City Council members appointed Monday. The second story, about Vernon J. Fields, is available here.
This story was updated Wednesday, March 28, to include the application materials Drennon submitted to the city of Basehor before he was appointed. The materials were obtained through an open-records request. They are available for download at left.
Basehor City Council meetings had grown too heated and contentious, Dick Drennon said, and it was time for calm and cooperation.
That was a year ago.
Now that a controversial firing, three recalls and a resignation have rocked the City Council, Drennon says his words from March of last year ring even more true.
"I felt we've been at a stalemate for the last six months to a year, and we just need to move it forward, quit the bickering and move on," Drennon said.
Drennon, 57, first made comments about calming down the City Council while he was running for a council seat last spring. He fell short in that effort by 25 votes. But on Monday, he was Mayor David Breuer's first choice to take over one of four seats vacated this month by recalls and a resignation.
Breuer said Drennon's experience working with the Basehor-Linwood school district — nearly 20 years as director of buildings and grounds and two years as a school board member — made him well-qualified for the job. And he has the right character attributes, too, Breuer said.
"I think he'll be a fair individual, and he's just a good man," Breuer said.
Drennon's term on the council will run until 2015.
As the city's new council gets to work, he said, it will have some work to do to gain the favor of the residents who voiced a desire for change in last month's recall election.
"The No. 1 priority, I think, is we've got to have the city build their trust back in the City Council," Drennon said.
Drennon plans to make his decision-making as a council member as open and public as possible, he said. His plan: Air his thoughts on the issues before the council during its monthly work session, then listen to feedback from residents before he casts his vote at the regular meeting two weeks later.
"I represent them," Drennon said, "and I think that what's kind of happened in the past, is people had their own agendas in there."
One of his goals as a council member, he said, would come from conversations he's already had with residents since his campaign for the council last year. The most common concern he's heard is that people want a new grocery store to replace the Wolf Creek Marketplace store that closed in 2010, he said, and he hopes to make that happen.
"Whatever I've got to do to help get a grocery store here, I'm going to do that," Drennon said.
But in general, he said, his goal is to help make Basehor a city famous for being a great place to live, not for the political turmoil that's ruled headlines for the past six months.
"I want everybody to be proud of what's happening here," Drennon said.