Vernon J. Fields, new Basehor City Council member, speaks of love for city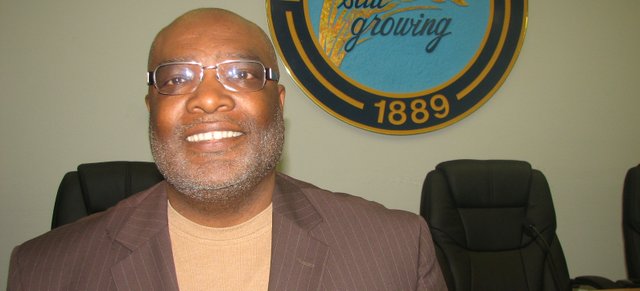 Related document
Two more spots available
Two Basehor City Council seats remain to be filled during the council's April 16 meeting, and the city is inviting residents to apply.
Applications are due at noon March 30. Forms are available for download below, or they can be picked up at Basehor City Hall.
Related document
Editor's note: This is the second of two stories introducing readers to the two new Basehor City Council members appointed Monday. Today's story is about Vernon J. Fields; the first story, about Dick Drennon, was published Thursday.
This story was updated Wednesday, March 28, to include the application materials Fields submitted to the city of Basehor before he was appointed. The materials were obtained through an open-records request. They are available for download at left.
When the Federal Bureau of Prisons asked Vernon J. Fields to move out to its office in Los Angeles County, Calif., as he neared retirement in 2007, he accepted. But he did not sell his house in Basehor.
Instead, he rented it. He knew he'd be coming back.
"I made sure folks knew it was going to be a two-year lease," Fields said.
And in 2009, he returned to the city he says he loves. He also looked for ways to give back and serve that community, and that desire has led him to become one of two new Basehor City Council members appointed on Monday.
Fields came to Basehor in 2000 as a result of another work transfer, this one from Colorado to the Bureau of Prisons office in Kansas City, Kan. Friends who knew the area told him he should live in Basehor. He made the right choice in trusting them, he said.
"My friends have never led me wrong," Fields said.
For the Bureau of Prisons, Fields provided drug treatment services for inmates and, later in his career, oversaw others who did the same. That followed a 14-year Army career — part of it spent on active duty, part of it in the Army Reserves — during which he served as a neuropsychiatric specialist, screening and counseling soldiers struggling with drug and alcohol addiction or other mental-health issues.
Now Fields, who has a Ph.D. in criminal justice, works as college campus chair at Phoenix University's Kansas City, Mo., campus.
During Monday's council meeting, member Travis Miles said before voting for Fields' appointment that his education was a key qualification, as well as his time serving on the Basehor Planning Commission since 2009. After the meeting, Mayor David Breuer said Fields' time handling big budgets for the Bureau of Prisons was also impressive.
"He just has a wealth of experience," Breuer said.
Fields said his time serving on the Planning Commission had prepared him well and had led him to have his eye on the City Council for a while now. He'd been planning to run for a seat in spring of next year, he said, before the seats opened up this spring.
Also during Monday's meeting, Miles cited a quotation from Fields from a 2004 Sentinel story profiling him: "You have to give back. You have to give something back to the community."
That drive, along with his love for the city, is what led him to apply for a seat now, Fields said.
"I'm honored and yet humbled by being able to serve this great city," Fields said.
Because it's a new job for him, he said it was too early for him to push for any specific goals or priorities on the council. But he said he thought his time living near Los Angeles, as well as in Basehor and other cities of different sizes, could give him an idea of both the benefits and dangers of growth for the city.
"This city is primed for growth," Fields said, "but growth that is uncontrolled, I think, can be detrimental."
And as for the political fighting that surrounded the city's recent recall election, Fields said he watched from a distance but did not get involved.
"One thing I learned in the Bureau is that there's always two stories," Fields said.
In general, he said, he'd like Basehor to heal from its wounds and work toward becoming a place other cities can emulate.
He already looks at the city that way himself, he said. That's what he's told friends he met during his time in California who've said he should make his permanent home there.
"I said, 'You know I'm not moving back out there,'" Fields said. "I love it where I'm at. This is my home."