As 'Kony 2012' group visits Basehor-Linwood High School, students join awareness effort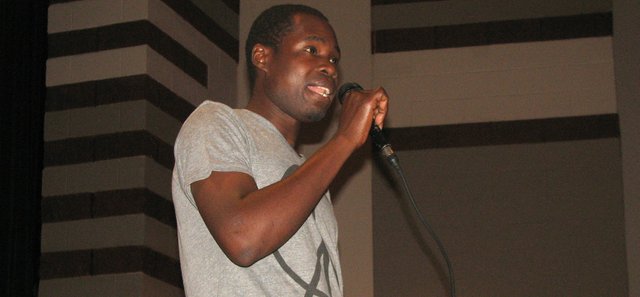 Natalie Engler had done her homework, so to speak, before an assembly Monday morning at Basehor-Linwood High School.
The sophomore had nearly memorized the video she watched along with the rest of the school's students in the auditorium, having watched it 20 to 25 times by her estimation.
The video is "Kony 2012," created by the nonprofit group Invisible Children to raise awareness of atrocities committed by Joseph Kony, the leader of a central African military group called the Lord's Resistance Army.
Engler said she had watched it again and again so she could commit it to memory and share its story with others.
"It's a great cause," Engler said, "and it just deserves to be noticed."
She has not been alone in watching the clip. As of Monday afternoon, the 30-minute "Kony 2012" video had been viewed more than 85 million times on YouTube since it was posted March 5. The online video company Visible Measures declared it the most viral video in history.
Engler learned about Kony's rebel group, which has abducted tens of thousands of children and forced them to become soldiers, about a year ago when touring representatives of Invisible Children first visited BLHS.
This spring, though, the group drew national attention with the "Kony 2012" video, and Engler said she has joined the charge by spreading word on her Facebook page, posting on her Tumblr blog and simply telling anyone who would listen.
"I've always been passionate about giving others a voice," Engler said. "Even if they can't speak, someone else should be out there to say, 'This is wrong.' "
After BLHS students watched the video in the auditorium Monday, they also heard Lawrence Komakech of Invisible Children remember growing up in northern Uganda when Kony's army raided his village, leaving him and his family to live "in absolute fear of being abducted or being killed."
Andrew Witmer, the leader of the Invisible Children team that visited BLHS, said his was one of 16 such teams across the United States and Canada that give about 3,000 presentations each year.
Before the group's video went viral this month, its audience members had usually never heard about Kony or the LRA before, he said. Now, that's not the case.
"Now, almost everybody is familiar with it, which is a good thing," Witmer said.
BLHS senior Caroline Dickinson said she had never heard about the issue before Invisible Children came to BLHS last year, but now the violence in central Africa is shaping her future plans. She plans to study internal medicine and become a doctor, she said, after which she wants to live in central Africa for a year providing health care, through her church.
"This is something I really support," Dickinson said.
She said she began donating money to the group after last year's presentation, as well. Some of the acts committed by Kony and his rebel group — abducting children, forcing them to mutilate their family members — were too sickening to ignore, she said.
"It's awful," Dickinson said.
"It's good cultural awareness for our kids, to know what's going on in the world," Fuhrman said.
Senior Kayla Rogers, who volunteered to carry a donation jar around the lunchroom for the group Monday, said the online video had been extremely effective in raising awareness among people her age.
"You could tell it focused on teenagers, more so than adults," Rogers said.
The "Kony 2012" campaign has attracted some criticism along with its attention this month, including accusations that the group has manipulated or exaggerated facts. Representatives of the group have said that's not true.
BLHS assistant principal Jarred Fuhrman said he was aware of some of the controversy surrounding the movement. But more important, he said, is that the group's presentations lead students to think about things happening far away, something they might not usually do.
Engler, too, said she wasn't concerned about criticisms of the group. She's confident about the cause, she said, and that's why she'll keep spreading the word.
"Every year, it keeps getting stronger," she said.