Work on failed wastewater pipes will continue this week in Bonner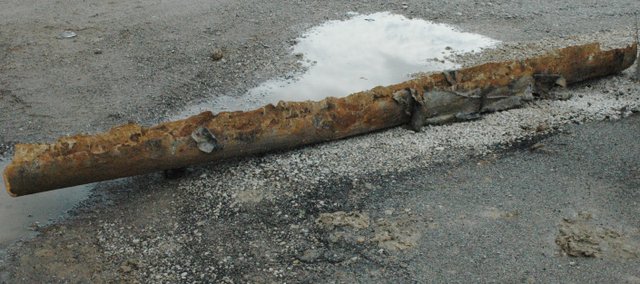 A burst wastewater pipe and another that appears to be clogged have caused city utilities workers some big problems in the past week in Bonner Springs.
On Tuesday, March 20, a force main carrying wastewater along Front Street/Kansas Highway 32 near Kansas Highway 7 to the city's wastewater plant failed; in fact, much of the pipe burst into pieces. The work to replace the pipe required two lanes of the street to be closed and uncovered a clog — and another week's worth of work — inside another force main in the same area.
Rick Sailler, utilities director, said the force main that burst last week was discovered by a passerby who stopped in City Hall, saying the power of the burst caused a manhole cover to fly several feet in the air.
The force main carried wastewater pumped from a station at Front Street and Scheidt, and Sailler said water leaking from the pipe largely went into a storm drain nearby, so the street wasn't flooded.
About 100 feet of the steel-wrapped concrete pipe appears to have rotted and basically was blown into pieces — the bottom half of a 10-foot section was the largest piece recovered. It was replaced with plastic pipe on Tuesday and Wednesday, requiring larger equipment and more manpower than the city had available, so the city had to call in an outside contractor, Westland Construction of Basehor. Two lanes of Front Street had to be closed in the area of the repair.
Sailler said plastic pipe is expected to last 60 to 80 years. The pipe that burst was installed in 1987, so it was not part of the new water lines installed in 2010.
While making the repairs, workers found another problem.
"It appears that the line that goes under K-32 at K-7 has plugged up," Sailler said, noting that this pipe also was installed in 1987. "That may have been what caused the other line to fail."
This week, the contractor plans to bore a new wastewater line under Front Street, which will cause more traffic lane closures, though Sailler said they will try not to damage the street during the construction. As of Monday, Sailler said some of the second failed force main had been pulled out and was similarly rotted, with only the lower half remaining.
Sailler said work to repair the second line will continue at least through the end of the week.
Since the first line burst and until the second line is repaired, wastewater from the pump station at Front Street and Scheidt has been bypassed into Spring Creek, which feeds into the Kansas River. Sailler said the city issued a bypass report to the state and notified Johnson County's Water One, which has a water intake point down river, though that intake point was closed at the time of the pipe burst.