Basehor-Linwood baseball team still seeking mainstay at catcher position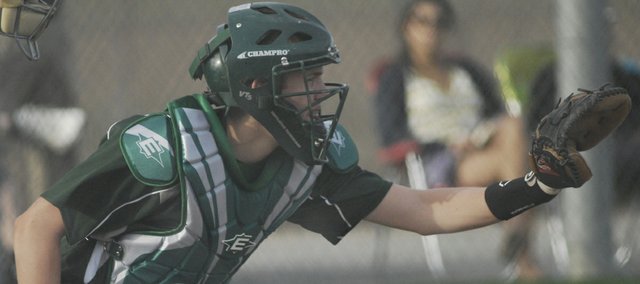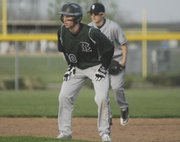 Redmond throws no-No
First reported on Twitter by @ethanduffey using the hashtag #BasehorSports: BLHS senior Brooke Redmond threw a no-hitter against Blue Valley North Tuesday as the Bobcats softball team starts the season 2-0. Stay tuned for more.
Shawnee — Basehor-Linwood baseball coach Brian Lohafer issued the call after last season, when Jarred Patton, the team's first-team All-Conference catcher, graduated: Someone needed to become a catcher over the summer.
With the season underway and one doubleheader in the books, just who that will be is no more certain than it was in the offseason.
Basehor-Linwood was swept 13-0 and 6-2 by conference foes Mill Valley on Monday in a pair of contests in which Lohafer took a look at two of three candidates for the starting catcher role.
"We're just trying to figure out who it is," Lohafer said.
Tyler Ogden caught the first game, a no-hitter pitched by Mill Valley's Greg Mason that was called after five innings. Up next was Zach Hevel, and Lohafer said he is also considering Garret Kahle for the job.
Patton left a sizeable void to fill upon graduating. His postseason honors were backed up by a .367 batting average in 2011 that included team highs in home runs (5), runs scored (28), and runs batted in (24). Patton's average also led the Bobcats.
While getting blanked by the Jaguars in the opening frame of Monday's doubleheader left much to be desire on offense, Lohafer pointed to misjudged balls and dropped flies as gaping holes that needed addressed on defense if the Bobcats were to compete with what he called one of the Kaw Valley League's best teams.
With Tanner Garver on the mound in the second game, the Bobcats clamped down on the Jaguars in the early innings. In the first, Garver hustled to the plate when a Mill Valley runner attempted to capitalize on a passed ball. What might have been a run conceded via another error in the first game became an inning-ending out when Hevel found Garver at the plate in time.
Garver got out of another jam in the second with a runner on third, keeping the game scoreless, and carried a 1-0 disadvantage into the fourth inning.
"Everyone's attitude was different in the second game," Garver said. "We knew we could play with them. We just had a lot of jitters in the first game, and decided not to give up."
Mill Valley came out swinging in the fourth as catcher Tyler Moore led off with a triple and the Jaguars would put three runs on the board before the inning was through.
"That was the whole game right there," Garver said. "We made two errors and started to get our heads down."
Avery Fliger took the mound at the top of the fifth and retired his first batter. But Mill Valley third baseman Jacob Theis doubled and shortstop L.J. Hatch reached on a walk. Fliger responded by striking out Moore, but outfielder Jacob Spring knocked a double up the left-field line to drive Theis and Hatch and extend Mill Valley's lead to 6-0.
The Bobcats rallied for their first runs of the season after Garver drove in Kahle and Hevel reached home after a pitch got away from Moore.
Suddenly, the Bobcats were within four runs with just one out, but relief pitcher Luke Knehans stopped the bleeding for Jaguars in striking out Bryan Crowe and Zach Joyce.
At 0-2 entering the Bobcats' home opener against Tonganoxie at 4 p.m. on Thursday, Basehor-Linwood is no stranger to overcoming a slow start. The team began April getting swept by Lansing and Piper and overcame four-straight losses in early May to qualify for state in Lohafer's first season coaching the Bobcats.
"We'll be all right," Garver said.
Garver said this year's seniors have filled the leadership gap left by last year's graduated mainstays.
Where exactly everyone will be playing most consistently is still to be determined as Lohafer said he planned to use the early leg of the season to evaluate who will fit best where.
"We've got a lot of ball left to play," he said.