History without a home: Library building constructed by Basehor's founder needs new spot
Want to help?
If you'd like to help find a new home for the old Reuben Basehor Library, call the Basehor Historical Museum Society at (913) 724-4022, or send email to bhms@sunflower.com.
Photo Gallery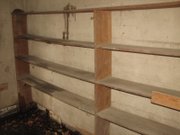 Basehor's first library
The Reuben Basehor Library, named after the town founder who helped build it, was constructed in 1903. It still sits in the backyard of a home near Leavenworth Drive and 155th Street in Basehor.
The building that Tiffany Lynch shows her third-grade students every year looks like it could be a storage shed, tucked in the backyard of a house in Basehor, its view from the street obscured by a tree.
But there's a reason Lynch, a third-grade teacher at Basehor Intermediate School, takes her students there: This 15-by-15-foot windowless concrete structure was Basehor's first library. Reuben Basehor, the town's founder, built the structure on Leavenworth Road just east of 155th Street with his hands when the city's population barely reached three digits.
"They can't believe how small it is," Lynch said of her students.
Her next crop of third-graders in the fall could be the last to ever visit the tiny building, though. The new owner of the nearby house wants it moved, and if that doesn't happen within six months to a year, it could be torn down.
That's why Carla Crawford and other members of the Basehor Historical Museum Society hope they can find one or more concerned citizens who can offer a place for it — and the means to move it.
"It's part of the community's history," said Crawford, the historical museum's director. "It's one of the few things we have left."
According to a 2002 Sentinel story, Reuben Basehor funded the library's construction in 1903 and helped construct it by hand, along with other members of the then-tiny community. According to the museum society, Basehor's population in 1900 was about 100 people.
It stood just a short walk to the east of a school building, which housed high schoolers and grade schoolers, where another house stands now, Crawford said. In his will, of which the museum owns a copy, Reuben Basehor left $1,000 to the now-defunct Prairie Garden School District No. 32 upon his death in 1910 to establish a fund to keep the library stocked with books for schoolchildren.
Reuben, who co-founded the town in 1889 with his brother Ephraim, had a passion for education, Crawford said.
"It represents who he was," she said of the Reuben Basehor Library, as it was named.
Museum society board member Earlene Ebert said she attended grade school in the building next to the old library in 1940, and even by then the library was out of use.
"The books, even then, where pretty old," Ebert said.
The library building was largely left alone until the late 1980s, Crawford said, when historical society members opened it to see what was inside. They found 26 books lining its two 5-foot-high wooden shelves.
Still intact because the library's thick cement walls protected them from sunlight and weather, the books now sit at the historical museum. They cover subjects ranging from algebra to the Renaissance in Italy. (One, called "Our English," had its cover edited by a student to read "Soured English" at some point.) Some of them date to the late 1800s.
"It's remarkable what great condition those books are in," said Anna Jean Breuer, another longtime resident and museum society board member.
Finding a new home
Marilyn Banks, who is helping her daughter remodel the house on the old building's property after buying the home in January, said she, too, hoped to preserve the building and its history. She just believes it should be somewhere more publicly accessible and not 20 feet from the house, she said.
"It doesn't belong here," Banks said. "It belongs someplace else."
She said she had contacted the Basehor Community Library and the historical society to see if they'd be interested in moving the building. Crawford said Banks had been understanding about the library's historical significance.
Banks, though, said she'd like the building to be moved within six months to a year. If that doesn't happen, she said, she would likely have it torn down.
Breuer said she hopes someone might step up and lead the effort to move the structure, a process that could be complicated and costly. The Basehor society plans to ask representatives of the Kansas Historical Society to inspect the building and determine if and how it can be moved, Crawford said.
The building stands as a reminder of Reuben Basehor's enthusiasm for knowledge and education, something that wasn't common around the turn of the 20th century, she said. The school building next to the library was torn down likely sometime in the 1950s, she said. Online Leavenworth County records show that the property's current plat was filed in 1959.
"Just think how many people were not educated," Breuer said. "They didn't know how to read. They didn't know how to write. And this was a man that — education was important."
Basehor Intermediate School students pay annual visits to the old library as part of a historical tour of Basehor, along with the house the Basehor brothers built and lived in.
Taking a look inside the old cement library — dark inside even when the sun is out, and with room for only a few people to stand — helps them see where their community came from, said Lynch, whose class is one of four that goes on the tour each year. But it also gives them perspective on how different life was in Basehor's early days.
"They're so used to just having access to hundreds of thousands of books that it's hard to realize that even a small amount of books was a lot for back then," Lynch said.