Keeping an eye on Mother Nature
Bonner Springs resident Gil Hoag has dedicated nearly 40 years to recording local weather statistics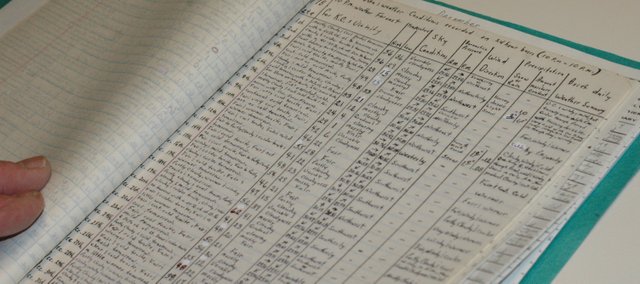 For nearly 40 years, Gil Hoag has been tracking Bonner Springs weather on handwritten charts in 12 file folders — one for every month.
And while the weather has been unseasonably warm this year, he said the biggest difference this year is the lack of snow, with a scant 2.3 inches.
"This is the least amount of snow I can remember," he said, though a quick look back in his records shows there was only 2.5 inches in 2006.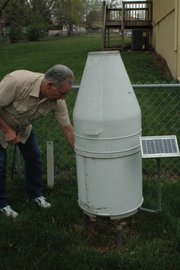 And that's a sad statistic in Hoag's world — while he has a passion for all things weather, snow is one of his favorite things. He said he's been known to forego sleep in order to watch the snow fall.
"I guess because it makes everything look near perfect," he said. "… I get excited when it snows."
Since 1973, Hoag has been tracking the weather from his Bonner home, serving as a National Weather Service co-op observer since 1985. In miniscule handwriting, he meticulously tracks each day's forecast, actual rain and snowfall, air pressures, wind velocities and temperatures, marking record highs and lows in red — and there hasn't been as much red this past month as one might think. While highs have crept into the 80s, he notes they haven't made records just yet.
For the record, the highest high he has recorded was 111 degrees in July of 1980; the lowest low, -30 degrees in December 1989.
Hoag says he always has been fascinated by the weather, though he's not sure how it began. His mother told him he was born during a thunderstorm — an uncommon occurrence in southwest Kansas in December — so perhaps that was the start.
There was one big obstacle keeping him from a career in weather prediction, however.
"I'd have loved to have done the weather, but there's just too much math to it," he said.
He has long been sharing his statistics with The Chieftain and Sentinel, and that was how the NWS found him and asked him to be a weather observer, for which he was paid $13 a month.
Since beginning as a NWS observer, he has called or emailed in his statistics daily. The service also provided him with a rain gauge, another digital rain gauge and an electronic thermometer to keep track of highs and lows.
A year ago, the NWS called to tell him they couldn't pay their observers anymore, but that didn't matter to Hoag.
"I said, 'You know, I don't know how I'm going to make it without that $13,'" he joked. "… I'd have done it for nothing — and now I am doing it for nothing," he said.
He also makes regular calls to KMBC 9 and Fox 4, the two area television stations who use weather watchers. On-air weather forecasters often refer to him as "Gil from Bonner" when they mention what he has recorded.
The one great irony for a lover of weather who lives in Kansas is in 67 years, Hoag has never seen a tornado, even when one moved through western Wyandotte County about 10 years ago.
"I was sitting here doing something and the sun was shining, and I noticed everyone was outside," he said. "I went out and they said, 'We could see that tornado up north!' and I went," Hoag raises his hands in frustration. "My only chance to see a tornado."
He has seen the aftermath while serving in the National Guard, when he was sent to Topeka to help at Washburn University following a tornado. He just missed last year's tornado in Joplin — he had driven through the city on the way home from Branson and just made it home when he heard the tornado had touched down.
Not that he would take any joy from seeing such destruction.
"If it's destroying buildings and homes, I don't want to see that; I'd rather see one moving through an open area," he said.
Hoag said he plans to continue his statistical weather records for as long as he can.
"I just hope one day, when I die, somebody will want these," he said. "I hope there will be someone interested enough to keep them going."