#BonnerSports and #BasehorSports roundup for March 29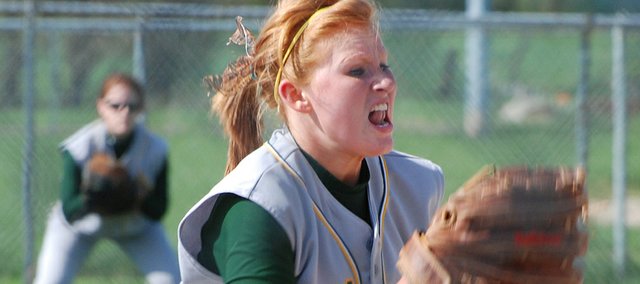 • The Basehor-Linwood girls soccer team is off to a 1-1 start after its first week of regular-season play. The Bobcats rebounded from Tuesday's 10-0 loss at Blue Valley Southwest by posting a shutout victory of its own on Thursday, defeating Cair Paravel, 5-0. The Bobcats return to play Maranatha Academy at 6 p.m. Tuesday. Find live updates by searching #BasehorSports on Twitter, and add your own by using the hashtag.
• Posted earlier on this site: Basehor-Linwood baseball is now 1-3 after splitting Thursday's doubleheader against Tonganoxie. At the beginning of the season, second-year coach Brian Lohafer said the team is no stranger to slow starts after rebounding from two-straight early-season sweeps to advance to state in 2011. Meanwhile, read about the team's search for a new mainstay at catcher.
• The Bonner Springs girls swim team has broken the surface on another season, posting a host of personal bests at the Topeka Invitational on Thursday. Read more here.
• Correction: We have corrected the March 22 Bonner Springs spring sports forecast to reflect that tennis coach Bill Scott is actually the school's most tenured coach, with 33 years of coaching both the girls and boys teams. Stay tuned for an update from the Braves boys team's first four meets of the year.
• Entering Thursday's game against Tonganoxie, the Basehor-Linwood softball team possessed a 2-0 record, including a perfect game pitched by Brooke Redmond. Twitter follower @ethanduffey first reported the achievement while attending the game. The Bobcats defeated Blue Valley North 10-0 and rallied to top Blue Valley 7-6 later that evening. The Sentinel will be reporting live from Monday's doubleheader at Mill Valley. Follow @BasehorSentinel on Twitter for live updates from the game, and stay tuned to basehorinfo.com for a recap and photo gallery. The team will also be featured in the April 5 issue of The Sentinel.
• That's all for now. Be sure to check out our calendar of sporting events this weekend by checking out this link or by picking up a copy of the March 29 Sentinel and/or Chieftain.
Notice anything missing? Reporting a score and stats is as easy as writing sports editor Stephen Montemayor at smontemayor@theworldco.info, or by tweeting updates using the hashtag #BasehorSports or #BonnerSports. We'll be sure to share your update. And, who knows, maybe a feature will develop from it.