BLHS

-

BSHS

baseball,

BSHS

softball games cancelled
Photo Gallery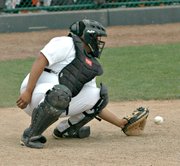 2012 Butch Foster Memorial Classic
Bonner Springs and Basehor-Linwood competed in the 2012 Butch Foster Memorial Classic at CommunityAmerica Ballpark from April 26-28.
Photo Gallery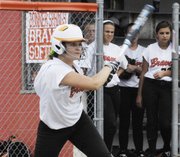 Softball: Basehor-Linwood sweeps Bonner Springs on April 26
The Bobcats won their 14th straight as the Braves' losing streak swelled to eight.
The Bonner Springs vs. Basehor-Linwood baseball doubleheader and Bonner Springs vs. Washington softball doubleheaders scheduled for Tuesday have been postponed, according to BSHS athletic director John Hilton.
Hilton said that no makeup date has yet been determined.
Stay tuned for more. Meanwhile, revisit Bonner Springs and Basehor-Linwood's performances during last weekend's Butch Foster Memorial Classic.
Bonner Springs softball last played Basehor-Linwood in a doubleheader that the Bobcats swept for their 14th consecutive victory. The Braves are still looking to end an eight-game slump.
Bonner Springs girls soccer's 4:30 p.m. game against Christ Prep is so far still scheduled to take place as planned. Basehor-Linwood softball is also scheduled to make up a previously-postponed doubleheader against Tonganoxie.