Geary to retire from Vaughn-Trent after a decade as director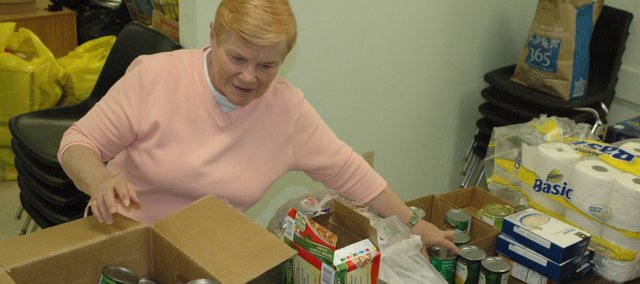 One of the things that keeps Vaughn-Trent Community Services running, Carol Geary says, is the connections within the community.
When Vaughn-Trent needs something, she usually knows where to go.
"That's what I like about being in Bonner," said Geary, who has served as the organization's director for nearly 11 years. "You get to know everybody, and you know where to go to get things done, and you get good cooperation from people… You call people and get some response. The fact that we're supported by the community is something that really stands out."
Geary, herself, has been a big part of keeping Vaughn-Trent running over the last decade, but after next week, someone else will step into her shoes when she retires.
Geary announcer her retirement late last year, saying she was ready for new things and hoped that the combination food pantry and social services organization could find someone who was more computer savvy, as more and more of the work of running the not-for-profit involves technological know-how.
She said she thinks Vaughn-Trent found that person in her replacement, Debbie Lohmann, who previously was an associate minister with First Christian Church of Bonner Springs and reportedly has a knack for all things computer.
Geary said she hopes Lohmann's leadership will help bring more awareness to Vaughn-Trent and its needs.
"If we can get the word out… I do think with Debbie coming on board, with her knowledge of technology, she'll get the web page looking good and maybe have some other ways of getting the word out," Geary said.
That has been one of the biggest challenges with fundraising, as Vaughn-Trent serves only residents within the boundaries of USD 204. Geary said many outside of Bonner Springs and Edwardsville haven't heard of the organization, but it's also hard to keep Vaughn-Trent at the forefront of local residents' minds.
She said she hopes more area residents, when faced with donations requests from national or international charities, make an effort to support those in need in their own community.
"And that's the main thing — to make more people aware of us and the importance of helping people at home," she said. "Yes, there's needy people all over the world, all over this country and Kansas City. The large organizations are able to get their word out — they have lots of resources to do lots of advertising… we don't have that. So ours is mainly through word of mouth."
Geary earned a degree in home economics from a small college in Pennsylvania, and since she has worked as a home economist for an electric company, a substitute teacher, an employment counselor, a conference coordinator and a training coordinator, among other things, along with taking some time off to raise her children. Her family moved to Bonner in 1975.
She was grading standardized writing tests when she learned about the position at Vaughn-Trent. Over the years, she says the increase in the number of people needing help from Vaughn-Trent has been slight but significant.
"In the time I've been here, the needs have not lessened," she said. "What has changed in the past few years is we've had people who have never had to ask for help in the past. And a lot of them are embarrassed, but they've gotten to the point because they lost a job that they just needed to have some assistance."
In her retirement, Geary said she plans to continue her involvement with the Friends of the Bonner Springs City Library group, which she has volunteered with for the last five years, as well as on the board of the Friends of the Kansas Libraries.
"I wanted to be a librarian, but it took another year of college," she said, explaining she didn't think her family could finance the schooling. "So, as I say, I'm sneaking in through the back door."