Basehor council members voice support for city employees
Ideas proposed at retreat include flat sewer rate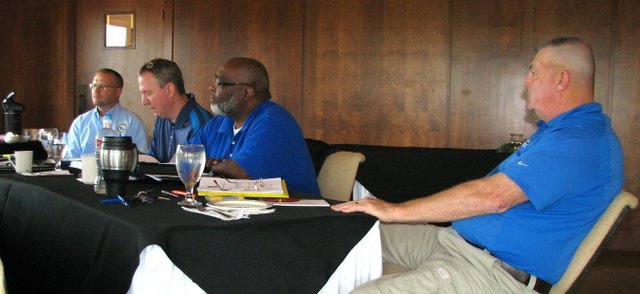 Members of Basehor's new City Council stand firmly behind the city's employees, they say.
And that may stand in contrast to the attitude of the previous council, some of the members suggested Thursday.
During the council's annual planning retreat at Falcon Lakes Golf Club in Basehor, members heard an overview of the city's operations from department heads, and they considered where the city should go from here. Different ideas emerged, but Mayor David Breuer and the council members agreed on one point: The city's staff is top-notch.
Member Dick Drennon, who was appointed to the council in March, told department heads they could breathe easier now.
"I don't think with any of us, it's going to be like it was in the past where you're going to have to look over your shoulder all the time," Drennon said.
Brian Healy, who was appointed in April, said employees could perhaps more freely bring problems or concerns to council members.
"If you're trying to hold back on something because the previous council, the previous folks, have not been willing to listen to that particular type of discussion — well, I'm not that way," Healy said.
Healy said he would stand behind the staff, and he welcomed any residents with complaints about the city's operations to come to him first.
Breuer lauded each staff leader at the retreat — police chief and interim city administrator Lloyd Martley, city clerk and finance director Corey Swisher, city engineer Mitch Pleak and city superintendent Gene Myracle — for their work improving their departments.
Martley said he appreciated the attitude displayed by the new council. In the past, he said, council members had sometimes reacted to concerns from citizens by attempting to solve problems themselves instead of talking them over with the city staff.
"Rely on us to do our jobs," Martley said.
After reviewing the city's operations, Breuer and council members reviewed some issues they might take on. Among those issues are:
• A proposal by Breuer to replace residents' monthly sewer and trash bills with an annual assessment added to their property taxes.
If the city assigned every property a flat sewer rate rather than assigning individual rates based on usage, and it no longer mailed out monthly bills, it could save as much as $10,000 in postage and a good deal of staff time.
Breuer said that flat rate currently would amount to around $50 per month, and only about 200 of the city's roughly 1,800 sewer customers would see a notable rate increase. Several members, though, noted that such a change could rankle smaller households and senior citizens with fixed incomes.
"You're going to have people say, 'Why am I paying the same amount as this family of eight over here?' " Drennon said.
Breuer said he knew the council would need to consider those concerns, and the idea was simply something for staff to explore.
• The management of several multimillion-dollar debts. By August, the city must obtain financing for two 2008 construction projects totaling about $3.7 million: the construction of Basehor Boulevard and improvements to 155th Street. After the city sells off the bonds, they will be repaid by nearby property owners as part of a benefit district.
Breuer said he'd also like the city to explore refinancing for about $10 million worth of debt owed to the state for its current and former wastewater treatment facilities. The low interest rates currently available could present a major savings opportunity, he said.
"We're talking about hundreds of thousands of dollars here that can be saved," Breuer said.
• Building permit fees. Breuer showed council members a recent residential building permit issued by the city that included about $8,000 in fees. Reducing those fees would require some research into what other area cities charge, he said, but he asked council members to consider whether the city was doing all it could to attract new homeowners.
"Are we really promoting a bedroom community?" Breuer said.
• Revamping the city's employee pay matrix. Travis Miles, the lone member remaining from the previous council, said some employees' wages were inadequate, including police patrol officers making just under $17 an hour.
Miles said he'd like to institute a system that includes annual cost-of-living pay increases along with performance-based raises. The current pay matrix simply gives every employee a 2.5 percent wage increase every two years.
Martley said the police department has had a difficult time keeping officers from jumping ship to take higher-paying law enforcement jobs nearby.