Bobcat soccer shut out at Tonganoxie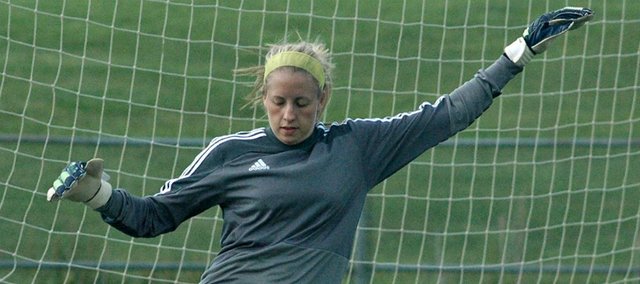 Photo Gallery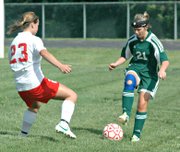 BLHS soccer at Tonganoxie
The Basehor-Linwood soccer team suffered a 2-0 loss Tuesday at Tonganoxie.
Tonganoxie — Less than a week ago, the Basehor-Linwood girls soccer team dropped a heartbreaker to Tonganoxie in overtime. The teams met again Tuesday at THS, and while the rematch wasn't quite as dramatic, it ended in another loss for the Bobcats.
BLHS suffered a 2-0 loss to the Chieftains, dropping them to 4-11 on the season.
"We came in with three straight losses to (Tonganoxie) over the last two years, so I think beating them was certainly on our minds," coach Derek Mazeitis said. "it just didn't happen today."
The game unfolded into a defensive struggle, as neither team found the net in the first half. The Bobcats struggled to get shot opportunities, but did enough defensively to keep the game scoreless at the break.
With the wind no longer at its back after intermission, Mazeitis' squad struggled to keep the ball on Tonganoxie's side of the field. The Chieftains broke through on a goal by Morgan Galvin with 16:05 remaining, and they made it 2-0 when Emily Soetaert scored less than a minute later.
"We just talked about not making silly mistakes and going forward as much as we could (after halftime)," Mazeitis said. "We knew it was going to be a little bit different going into the wind in the second half, and I think we saw that our attack suffered a little bit."
Several Bobcat players got scoring looks in the game's final minute, but in the end, they weren't able to avoid a shutout.
BLHS could still end its regular season on a high note when it travels Friday to Bishop Ward.
"Our goal this year was to win more games than last year. If we win on Friday, we'll have met that goal," Mazeitis said. "In our minds, I think there's still a lot to play for on Friday, so hopefully we'll get the ball rolling for regionals."