Stages of support
A mom's work is never done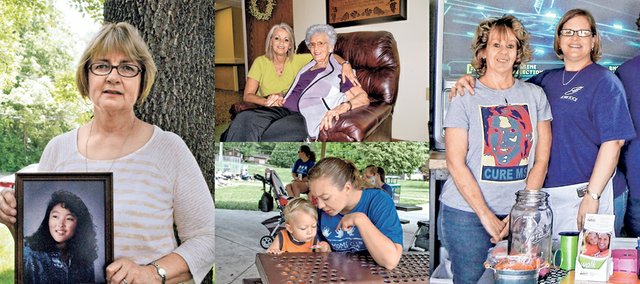 Mothers are supportive of their children, whether they're cheering along the sidelines at a soccer game or getting a costume lined up for a school play.
Before those days come, though, there are the first stages of motherhood.
And a Tonganoxie group is available to offer support for mothers even before their babies are born.
Mommy to Mommy is designed to provide information, education and encouragement for both new and experienced nursing moms, as well as for mothers-to-be who may not be sure breast-feeding is right for them.
"We're not really conditioned toward breast feeding in our society," said Polly Slater, certified breast-feeding educator and facilitator for the group. "We're more pushed toward formula."
The group's first meeting was last month and although attendance was minimal, she hopes more mothers and expectant mothers will take advantage of the free support group. Mommy to Mommy Tonganoxie meets at 11 a.m. the third Wednesday of each month at Tonganoxie United Methodist Church, 328 E. Fourth St. in Tonganoxie.
"There are so many misconceptions and so much misinformation about breast-feeding floating around. It's crucial to provide a safe, nurturing environment where moms can have their questions answered by someone who may have faced similar issues or had similar experiences," Slater said.
The support group was initiated through a Kansas Parents as Teachers grant for which the United Methodist Health Ministries applied. Keystone Parents as Teachers, for which Slater works, also is sponsoring the group.
Reservations are not required and all mothers and their babies are welcome, Slater said.
Support for stay-at-home mothers
For stay-at-home mothers, support can be hard to come by, said Laura Beth LeRoy.
That's what the Moms Offering Moms Support, or MOMS, Club is designed to remedy.
"I know that I felt very alone when I had my child, because none of my friends had babies, none of my neighbors," said LeRoy, who joined the club shortly after giving birth to her son four years ago. She is now president of the MOMS Club of Shawnee West. "So it was just a way to find someone in the same place and the same season of life that I was in."
The international club for stay-at-home mothers and their children offers socializing activities such as book clubs, craft nights and play dates. Members also take part in community service projects.
"The idea of the club is that just because you're home with your child doesn't mean you should be socially isolated," said Nancy Bolyard, president of the MOMS Club of Shawnee East.
Area chapters also include the MOMS Club of Olathe-East and the MOMS Club of Lansing/Leavenworth.
"I know it's been a great source of advice for mothers. When we get together, we'll exchange tips on potty training and picky eaters and, also, sometimes it's just nice to have that sounding board," Bolyard said. "It's nice to have somebody who knows what you're going through when you're sweeping the Cheerios up for the fifth time that day."
More information about the MOMS Club and how to join a chapter can be found at momsclub.org.
Mom's always there
On the bad days, when she can do little but lie down, Ronda Sirkovic picks up the phone and calls her mother.
Her mother, Mary Lakey, lives not far from her west Shawnee home, in Basehor, and they see each other almost every day. But when it's bad, she just wants to hear her mom's voice.
"She's always been, I don't know, like my breath," said Sirkovic, 40. "She just breathes life into me."
When Sirkovic was growing up in Tonganoxie, Lakey was the one who told her every day that she could do whatever she wanted if she put her mind to it. Mary told Ronda that she didn't want her to be a bus driver like Mary was; she wanted her to choose from a world of possibilities.
She saw Ronda had a knack for art and math; she enrolled her in art classes when she was 5, and she sat down and solved math problems with her daughter for practice.
"I just remember loving to do math with my mom," Sirkovic said, "and, I mean, how many kids can say that?"
When Ronda wanted to quit the engineering program at Kansas State University, discouraged by poor grades, her mom told her to stick with it, that she was going to get that degree. And when she graduated in 1994, she had more than a dozen job offers.
When Ronda became a senior project manager at JE Dunn Construction, leading the company's construction of the new Federal Reserve Bank headquarters in downtown Kansas City, Mo., and other projects, Lakey was not surprised.
"She always was such a good kid, from day one," Lakey said.
In 1999, Sirkovic was diagnosed with multiple sclerosis. Lakey followed the advice she'd given to her daughter countless times: "Get it done. Just get it done." She organized a team, called "Wings for Ronda," to take part in the annual Walk MS fundraiser. The team raised nearly $6,000 this spring.
Both mother and daughter say the other is defined by her determination.
"I ask her where she gets it from, and she always says, 'my mother,'" Lakey said.
Last fall, Sirkovic had to retire from JE Dunn, no longer able to keep up with the stresses of the job. Her mom threw a retirement party, inviting her family and friends from work.
When Sirkovic has a bad day, Lakey will come mow her lawn, help her 10-year-old son with his homework or cook dinner.
"I just wish I could give her some of my oomph some days," Lakey said.
Sirkovic says she thanks God for her mom every day. And when she feels at her worst, she knows she can pick up the phone and make a call to get the "oomph" she needs.
"I don't care how old you get," Sirkovic said. "There's just something about your mother."
Never stop being a mother
Jennifer Brooke Reeves was an intelligent girl. A singer and pianist, she had performed in musicals while at Bonner Springs High School and at Starlight Theater and Theatre in the Park.
Adopted at 6 months old from Korea, she was a daddy's girl who loved peanut putter on doughnuts.
"She was a good person, and she cared a lot about others and loved to have a good time," her mother, Gayla Reeves, said.
Reeves experienced something all mothers hope they never have to — the death of a child. Though Jennifer has been gone 16 years now, her mother said her family keeps her memory alive.
"You don't get over it," Reeves said. "You don't go on, you move forward."
Jennifer was 22, working in Lawrence while taking a year break from schooling at Kansas University. She planned to return to school and get a degree to teach high school music.
It was a minor car accident, only 15 miles per hour, but Jennifer was wearing only the lap belt part of her seat belt, and her airbags didn't deploy that day Jan. 5, 1996.
In the years since Jennifer's death, Reeves said she and her husband talk about their eldest daughter daily. Reeves has four granddaughters now, and she makes sure they know about their aunt.
"We get by and we talk about Jennifer; we don't hide it," Reeves said. "I have three children, one is just living in a different place."
The Reeves had the steeple of their church lit in Jennifer's memory, donated a weeping willow to the cemetery in her name, and for 13 years, they donated funds for a scholarship at the high school in Jennifer's name — now, they plan to take those funds to put into savings for her nieces' college funds.
Three times, in five-year increments, they have purchased a memorial ad in The Chieftain near the date of her death.
"You don't want people to forget; she's still here to you," Reeves said.
"What's really going to be hard is when 22 years have gone, and that was as long as we had her," she added. "That's going to be hard."
Visiting Mom
Esther Funk has been looking forward to Mother's Day for more than a month.
Funk, a resident for eight months of one of Vintage Park at Baldwin City's assisted living apartments, gets daily visits from her daughter Robin Johnson of Lawrence, and another daughter, Bonnie Bulmer of Ottawa, visits each weekend. But her other five surviving children, some of whom live as far away as Texas, can't visit the 84-year-old former Ottawa resident as often.
Things will be different Sunday. Although she won't see them all, Funk will spend time this Mother's Day with a good number of her children and 48 grandchildren and great-grandchildren.
"I'm excited about it," Funk said. "I get to go on a little outing.
"I'll get to see my grandchildren. There are some of them I really enjoy."
Johnson said the family will take her mother to a gathering at Bulmer's home in Ottawa. It will re-create the Sundays and the Mother's Days the family knew in the past when they would gather for a large dinner after church.
Shelley Ausherman, activities director for Vintage Park at Baldwin City, said Funk's day would be similar to that of other residents as families take the mothers out for a Mother's Day lunch or short home visit.
The holiday concludes a week of activities observing the day, Ausherman said.
"We give them a gift in the morning," she said. "They will have something special on their plate when they come out for breakfast.
"We do a little reminiscing throughout the week in our groups, remembering their Mother's Days and their mothers, too."
Nicole Murry, activities director at Baldwin Healthcare and Rehabilitation Center, said Mother's Day was an important day at the skilled nursing home and one of the busiest visitor days of the year.
"We get a lot more grandkids and more extended families," she said. "They (residents) look forward to all holidays, and Mother's Day is very important."
Outings are difficult for the facility's long-term care residents, so staff allows families space and privacy to visit their mothers, Murry said.
As at Vintage Park, observances start before the holiday.
"We host a Mother's Day luncheon on Friday before the holiday," she said. "We invite family members to come have lunch with their moms.
"We have somebody come sing for us. A Mary Kay representative will be here to do hand treatments on the ladies."
— Staff reporters Shawn Linenberger, Melissa Treolo, Matt Erickson, Caroline Boyer and Elvyn Jones contributed to this story.