Bush, Schneck to represent
BSHS

at state tennis tournament this weekend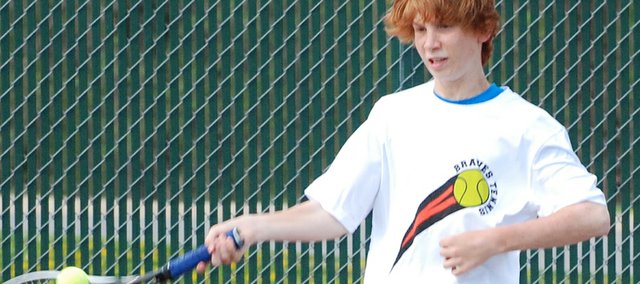 The Bonner Springs boys tennis team placed third behind St. James Academy and Topeka Hayden in the 4A regional tennis tournament on Friday in Spring Hill.
Spencer Bush and Quinton Schneck earned two victories on the first day of competition. In round one the doubles team defeated Atchison (6-1, 6-1) and topped Topeka Hayden (6-1, 6-3) in the second round. 
In the semifinals, the pair met Paola, a team the Braves had met in the finals of a tournament in Leavenworth earlier this season. Bush and Schneck won the first set, 6-4, but dropped the second, 4-6.
Down 3-0 in the third, Bush and Schneck rallied to win the final six games to advance to the regional finals, where they met St. James, the only team to hand them a defeat all season.
"I thought we played the best we had played the whole tournament, but St. James is just so good and they don't make unforced errors," coach Bill Scott said.
That disciplined play proved too much for the Braves' top doubles team to overcome as they lost (6-2, 6-2).
Scott called Bush and Schneck, now 18-2 on the season, one of the best doubles teams he's seen at Bonner Springs. They'll have a shot at bringing home a state trophy during the 4A state tournament in Topeka on Friday and Saturday.
The rest of the Braves saw their seasons come to an end at regionals. Aaron Lewis won his first round in singles competition against Hiawatha. In round two, his bid for state fell short against Baldwin.
"Aaron played his best tennis of the year in that losing match," Scott said. "If he becomes more consistent next year, he will be a really good player for us." 
Exchange student Guil Pazos lost a tough three-set affair to Atchison, ending his Bonner Springs career. Scott became pleasantly surprised by Pazos as the first-year tennis player took little time rising in the varsity ranks.
"I will really miss him next year," Scott said. "Such a great attitude and loves the game."
Bonner Springs' other doubles team of George Docking and Joseph Arnett had to play No. 1-seeded St. James in the first round and lost (6-0, 6-0). 
With Docking graduating, Scott said Arnett would make a good doubles partner for Lewis next year.
But the focus now is on the state tournament, where Bush and Schneck will try to etch their names in Braves history.