BLHS

,

BSHS

baseball teams' focus turns to regionals after splitting regular season finale
Photo Gallery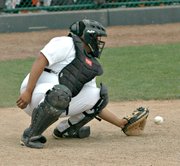 2012 Butch Foster Memorial Classic
Bonner Springs and Basehor-Linwood competed in the 2012 Butch Foster Memorial Classic at CommunityAmerica Ballpark from April 26-28.
Fittingly, Wednesday's regular-season ending doubleheader between Basehor-Linwood and Bonner Springs saw the two baseball clubs each take a victory from the other.
In the opener, Bonner Springs (5-15) took a hotly-contested 9-6 victory, largely on the strength of a four-run sixth inning.
The game saw three ties before the Braves broke game open in the bottom of the sixth and held the Bobcats (4-15) to one run in the seventh inning to win.
Tanner Garver went 3-for-3 with a double and a run batted in. Skylar Barnes went 3-for-3 with two RBIs and Tyler Ogden went 2-for-4 with a double, an RBI and two runs scored.
Basehor-Linwood took the second game in convincing fashion as its bats came alive to power the Bobcats to a 14-1 victory.
A four-run first inning set the tone and a five-run sixth bookended the offensive onslaught. In all, the Bobcats strung together 15 hits in the contest, two of which in the form of homers off the bat of Bryan Crowe.
Crowe's 2-for-4 game produced 5 RBIs. Joe Merrino also went 3-for-4 with an RBI and two doubles. Seagar Smith went 2-for-3 with two RBIs and scored three runs. Both Smith and Zac Hevel led the Bobcats with three runs scored apiece.
Each team now awaits Saturday's unveiling of the 4A regional brackets. On Monday, Bonner Springs will begin play at the Eudora Baseball Field, 2635 Church, against a field that includes Baldwin, Santa Fe Trail, De Soto, Eudora, St. James Academy, Maranatha Academy, Kansas City Christian and Spring Hill.
Basehor-Linwood will play at Bishop Ward's Eisenhower Field, 2901 N 72nd St. The Bobcats' bracket includes Atchison, Bishop Ward, Piper, Sumner Academy, Jefferson West, Perry-Lecompton and Tonganoxie.
Stay tuned for more on the 4A regional tournament as more information becomes available.