BSHS

executes but falls short at 4A tennis tournament
Photo Gallery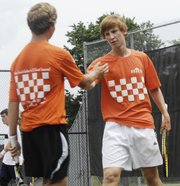 Bonner Springs at 2012 4A state tennis tournament
Spencer Busch and Quinton Schneck represented Bonner Springs in the 4A state tennis tournament in Topeka on Friday and Saturday, May 11-12.
In perhaps the best-played match of its splendid season, the Bonner Springs doubles team of senior Spencer Bush and sophomore Quinton Schneck fell in its first match of the state tournament Friday to Wichita-Collegiate 4-6, 6-4, 10-8.
Upset with the agonizingly close defeat, coach Bill Scott told them that if they could just get by Abilene, they were right back in the tournament.
Wichita-Collegiate's hard-hitting game meshed well with Bush and Schenck's, which is why they were so evenly matched. But Abilene's unique game was the opposite.
"I've never seen a team play like this ever," Scott said. "All they did was lob the ball."
Bonner Springs lost its second match, the first round of the fifth place bracket, to Abilene's Kanyan Anderson and Connor Kijowski, 9-5. In the one-set match, the Braves coaches alternated and tried all sorts of different tactics to help their baffled doubles team. Abilene was lobbing everything right from the return. The only thing Schneck and Bush could do was lob back. Anderson and Kijowski did the same thing earlier in the tournament, so this was no fluke. They had the advantage.
"They knew they were driving us nuts," Scott said. "They could see it. And no matter what we tried or what we told the guys, we couldn't get out of it."
The Bonner Springs doubles team, which was 18-2 coming into the tournament, played its last match Friday and was understandably upset by the sudden tournament exit. Scott, who has raved about the team all year, waited about 10 minutes to talk to his duo after they left the court. It was hard to put a justifying cap on the season with not much to show. Former Bonner State champion Josh Mortensen was there to praise their impressive season, helping ease the pain.
Reflecting on the season as a whole, Scott was more than proud of what his team did this season. They started with a fifth place team finish at Mill Valley, then placed second at Bonner Springs, second at Leavenworth and third in regionals. The nearly unstoppable doubles team was just a bonus. No one had any idea Bonner Springs would have results like that.
Now, the Braves are now looking into next season and how they will approach players leaving. Most notably, Bush is leaving from graduation.
Unless anything unexpected happens, Scott said, Schneck is most likely going to be the No. 1 singles player and he needs to focus on improving in that area in the offseason. There is a chance that another doubles pairing for him won't happen.
The union of Bush and Schneck this season was somewhat of a surprise because they just clicked immediately. Scott knows that it's hard to rely on that happening again.
"The thing with Spencer is he was just tough," Scott said. "He was a four-year player and he had been through all the wars. I don't have a guy like that for Quentin."