Bobcats state-bound again after 7-0 victory against Bonner Springs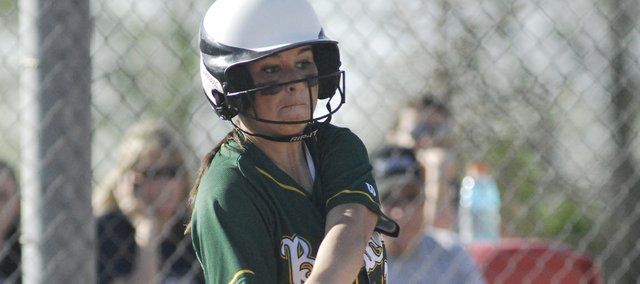 Photo Gallery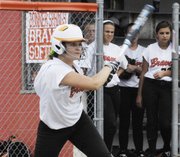 Softball: Basehor-Linwood sweeps Bonner Springs on April 26
The Bobcats won their 14th straight as the Braves' losing streak swelled to eight.
Earlier this season, members of the Basehor-Linwood softball team kept comparing themselves to the 2010 state championship team.
Though the success and expectations remained the same, coach Susan Mayberry stopped the comparisons right there.
"I don't want you to be the 2010 team," she told them. "I want you to be your own team."
That was when it sunk in. The Bobcats breezed to a 20-2 record and are once again heading to the state tournament after a 7-0 victory against Bonner Springs Tuesday in the 4A region- al championship.
As the Bobcats took turns hoisting the trophy and posing for photos, the Braves were huddled on the other side of the field coping with the loss. They went farther than most thought they would in this tournament, but it didn't make losing in the championship game any easier to bear.
"I told them just to go down swing- ing and work hard and not give up," coach Denise Chowning said, fight- ing back tears. "And I don't think they did."
Earlier on Tuesday, Bonner Springs avoided a comeback from Tonganoxie to win its semifinal, 8-5, and Basehor-Linwood escaped in an ugly 3-1 victory against Jefferson-West. But for the Bobcats, sophomore Kayleigh Schoenfelder said, that performance let to a more focused approach in the final game.
"As long as we do something at the plate," she said, "it's going to be OK."
With that mentality, the Bobcats scored three quick runs in the first inning and another in the fourth, starting with a little breathing room. It almost didn't matter because Bobcats pitcher Brooke Redmond was in the zone.
She tossed eight strikeouts and had a no-hitter until Bonner Springs' Cassady Holloway singled in the seventh inning.
"It really pumps me up because I know she's going to be there for me," Bobcats sophomore Candice Jennings said. "And so are my other teammates."
Each player for Basehor-Linwood reached base, with Jennings leading
way going 3-for-4 and two RBI. Looking ahead, Mayberry said, the Bobcats are going into the state tournament for the third time in four years with no set expectations. It's not fair to build kids up for failure, she said, but this team does have the ingredients of
a champion. "Chemistry is everything," Mayberry said. "When they talk about champions, it's always team chemistry, team chemistry."
It's not as if the Braves didn't have some of the same qualities. Chowning said they were doing all they could against the Bobcats. They made plenty of contact off pitches, but they all quickly wound up in the glove of their opponents. All Bonner Springs needed was a little luck. That's what made the loss so painful.
"It's easy to coach for a team that wants it," Chowning said. "Losing those five seniors is going to hurt and
they set the tone for the underclassmen."
The future for this Bonner Springs team looks bright as several underclassmen had significant roles this season. But for an emotional Shelbie Thorton, a graduating senior along with Breanna Tendick, Amber Stephens, Meagan Stice and Kylee Timberlake, it'll be hard not to wonder what could have been.
"It's just the fact that we're not com- ing back next year," she said.
The 4A state softball tournament begins May 25 in Salina.