Stephens' hat trick leads Basehor-Linwood past regionals first round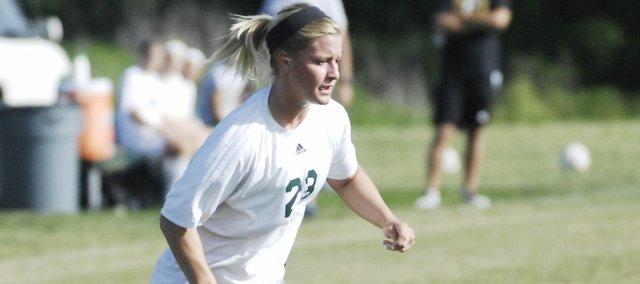 As she walked away from the pitch, Basehor-Linwood junior Kara Stephens was as short on breath as she was with words.
To her, her three-goal performance to lead the Bobcats to their first regional tournament victory in memory was just a matter of "kicking it into space, making good runs and passing."
In stopping Sumner Academy 3-0 on Tuesday, Derek Mazeitis' youth-laden Bobcats (6-11) improved upon last year's victory total while earning a rematch at Spring Hill (14-2) at 5 p.m. on Friday.
Aside from the first 10 minutes of play, the Bobcats owned the possession advantage. And, more often than not, if the ball was in her vicinity, Stephens would get a touch on it.
"We expect her to be our creator and finisher," Mazeitis said. "There's a lot on her shoulders, but I thought tonight she was creating nicely and she got rewarded with three goals."
With 10 minutes left in the first half, Stephens took a ball at the top of the box and volleyed it in for the game's first score. The shot served as a response to the physical defense applied on Stephen's by Sumner's Lina Garcia, who on the previous play sent Stephens to the grass near the goal.
"Just play hard back," Stephens said of her plan to handle Sumner's pressure.
Sumner had a chance to tie the game just before halftime after Basehor-Linwood freshman Raeny Seaton was called for a push to the back on Marlen Aguilera, setting up a penalty kick.
Steeling herself in goal, senior keeper Ellen Farris watched as Aguilera's shot sailed over the crossbar, taking with it Sumner's chance as wrestling away momentum before the break.
With that, the Bobcats looked to recharge after a slow first-half start.
"I thought we kind of came out overconfident," Mazeitis said. "I felt like in the second half we certainly dominated play."
After stymieing Sumner's first-touch drive, Basehor-Linwood ratcheted up its attack early in the second half. Six minutes in, sophomore Hailey Robinson cleared a shot away from the Bobcats' goal to its inevitable place at the foot of Stephens.
The junior took off on a midfield charge down the right side of the field before firing her second goal in the back of Sumner's net.
"(Robinson) is always very consistent," Mazeitis said. "She saves our butts quite a bit."
Sumner's aggressive defense caught up with it with 30 minutes remaining as freshman Helen Venegas collided with Seaton at midfield, earning Venegas a yellow card.
The final goal of Stephens' hat trick came with 22 minutes left to go when a costly error by Sumner — its goalie, Katie Rosas, scooped up a pass that was sent back to her — awarded the Bobcats an indirect touch in front of the goal. Sophomore Jordan Nirschl quickly tapped the ball, clearing the way for a Stephens goal that, at the time, appeared to be an inevitability.
The victory reversed the fortunes of seasons not long ago past. Improving its win total and advancing past the first round of regionals were goals on which Mazeitis said the Bobcats placed a premium.
"They're going to get better," Mazeitis said. "They're progressing. A lot of young girls are getting a lot of minutes."
Spring Hill last handed Basehor-Linwood a 4-0 loss in April.