Art show gives students self-esteem boost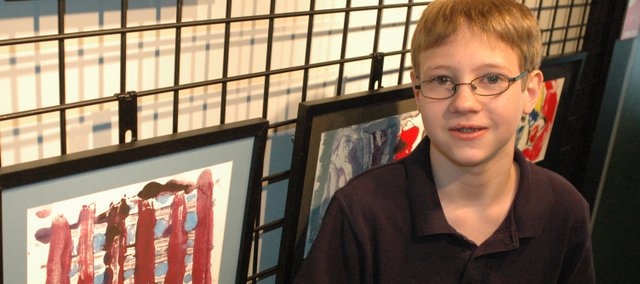 While his learning disability can make school difficult at times, 11-year-old Jonathan Jackson said one thing he always enjoys is his art class.
"(I like) the creativity," he said. "It's the only time I get to feel free."
The Lawrence student attends Horizon Academy in Roeland Park, a private school for children in grades kindergarten through 12 who struggle with learning disabilities. Kit Bardwell, art teacher at Horizon, said her class puts all students on an equal playing field.
"It gives them an opportunity to express themselves in ways that don't require the use of literacy skills," Bardwell said.
Now, more people from the area are learning about Horizon and the challenges its students face with essential skills such as spelling, reading, writing and mathematics.
Artwork created by Horizon students, including two of Jonathan's pieces, is currently on display at the New Theatre Restaurant in Overland Park. The artwork is being exhibited and sold to coincide with "The 25th Annual Putnam County Spelling Bee," which is at the theater through June 21.
Sam O'Neill of Shawnee said "it's pretty unbelievable" to have his artwork included in the exhibit.
"It's a great opportunity that comes once, maybe twice, in a lifetime," the Horizon sixth-grader said.
Sam said his painting of a dragon was an homage to the film, "How to Train Your Dragon," one of his favorites. Another student from Shawnee, seventh-grader Cole Megerson, also had artwork displayed in the exhibit, though his piece has sold already.
Sam has a form of autism known as Asperger's syndrome, his mother, Amy O'Neill, said. She said art had helped give her son a sense of confidence he may not have had otherwise.
"I think he feels like he's good at art and he gets a lot of compliments," she said. "And I think it makes him feel successful that he's good at something."
Rob McGraw, director of marketing and sales for the theater, organizes art exhibitions for each show, trying to find a connection between the show in the theater and the art on display. So with the current show related to a school, he thought about the theater's co-owner, whose son attends Horizon and who often brings his son's school artwork to the theater.
McGraw said he hoped the exhibit raised awareness of Horizon and its students, since about 50,000 people in all see each show and most spend time browsing the art display. Within the first few weeks, three pieces of artwork had sold at $120 each, with proceeds benefiting the visual arts program at the school.
Bardwell said the students got excited about the idea of the show and enjoyed coming up with names for each of their pieces.
"It was a surprise opportunity, but it really was a self-esteem boost," Bardwell said.
Justin Roberts, 13, a student from Bonner Springs, said he was excited that so many people would see his artwork — he also has two pieces in the exhibit.
"It's very cool," he said. "(I think that) people will think 'good job.'"
Justin thought there was a good chance his pieces might be purchased.
"I think someone will purchase them, and I'll feel happy about that," he said.
This story has been updated to correct the spelling of Amy and Sam O'Neill's last name.