Basehor Chamber asking for Outstanding Citizen nominations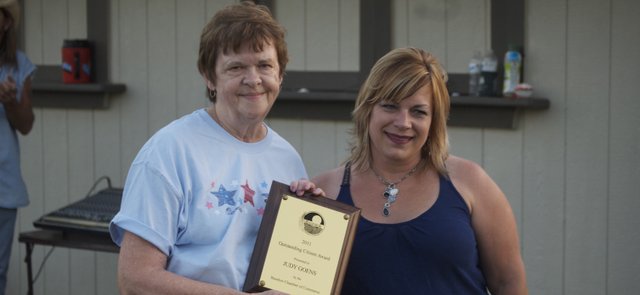 Related document
Past award winners
Basehor Chamber of Commerce Outstanding Citizen Award
2001: Mary Leonard
2002: Bob Purtee
2003: Ferna Moser
2004: William Lewis Clark
2005: Roger Brandt
2006: Mary Ann Mogle
2007: Lila White
2008: Jeff Theno
2009: Carl Slaugh
2010: Don "Slim" Wilson
2011: Judy Goens
The Basehor Chamber of Commerce is seeking nominations for its 2012 Outstanding Citizen Award.
The award was created in 1989. It is presented annually at the Basehor July Fourth celebration. Last year's winner was Judy Goens.
Nominees should be residents of Basehor or the Basehor area who have contributed to the betterment of the community. Nominations can be submitted by an individual or a civic organization. The chamber's board of directors will choose a winner from among the nominees submitted.
Nominations are due June 19. A nomination form is available for download at left, and forms can be picked up at the following locations in Basehor: Basehor Community Library, Citizens Savings and Loan, First State Bank and Trust, Community National Bank and Basehor City Hall.