Basehor library planning group for home-business owners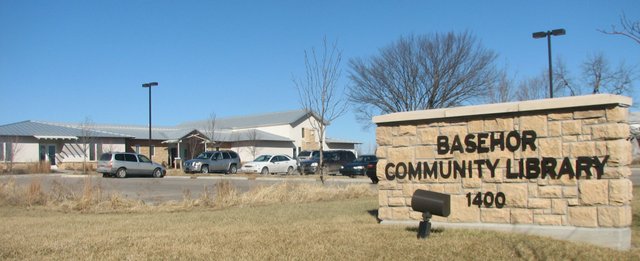 If you're running a business out of your home, the Basehor Community Library wants to be your water cooler.
In the fall, library leaders hope to begin having regular meetings for home-business owners to gather for the interaction and networking they might miss because they don't have a workplace outside of their home office, library director Diana Weaver told Basehor Chamber of Commerce members Thursday.
Weaver spoke during the Chamber's monthly meeting at Reece & Nichols in Basehor.
The idea for the library to be a better resource for small businesses sprang into Weaver's head during a panel of business owners at a Chamber meeting about a year ago, she said.
"I've been thinking about that for about a year: What can we do at the library for people who have their own home-based businesses?" Weaver said.
And when she talked with her daughter, who runs a dog-training business out of her home, it became clear what some business owners might be able to use.
"She always says, 'I'm going to work in my pajamas,' and she really likes that," Weaver said. "But she also missed a lot of networking."
That was echoed by members of this year's Southern Leavenworth County Leadership Development class, of which she was a member, she said. It was apparent that home business owners could use a place to meet up, swap ideas and learn from each other.
So that's the library's plan for the fall: regularly scheduled meetings for local home-business owners.
"They can come once a week or once a month, whatever they decide, and network, get together, talk about things," Weaver said.
The library might also bring in experts to talk about accounting software, social media or other tools for small-business owners, Weaver said.
But she said she'd like to hear from business owners on what else might be helpful. She asked that anyone with a home-based business who would like some support send her an email at dweaver@basehorlibrary.org.
Also during Thursday's Chamber meeting:
• Organizers of the June 2 Basehor Dairy Days festival are still looking for vendors to set up booths, said Jenne Laytham, a member of the festival's organizing committee.
Vendors must pay a fee of $50 to sell food or $30 to sell other goods out of a booth. Nonprofit vendors will pay only $10.
For more information, interested vendors or entertainers can send email to basehordairydays@yahoo.com or call Lila White at (913)724-2963.
• A parade will return to this year's Basehor PRIDE Fourth of July celebration, PRIDE president Chuck Wilderson said.
The parade had been part of the celebration in past years, but it wasn't held last year because PRIDE did not have enough resources. But it will return this year with help from the Chamber and the city of Basehor, Wilderson said.