THS

Class of 2012 officially alumni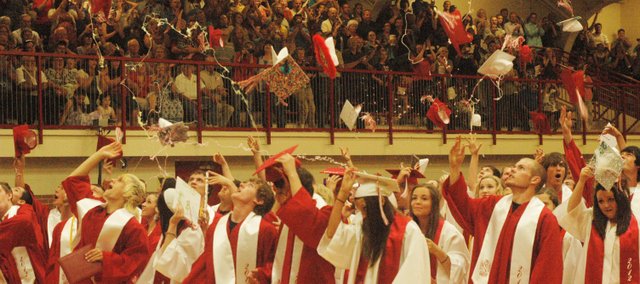 Photo Gallery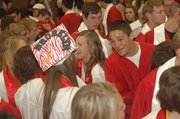 Tonganoxie High School graduation 2012
Tonganoxie High said so long to its Class of 2012 with commencement exercises Saturday, May 19, 2012, at the THS gymnasium.
Ben Williams had some simple advice for his classmates Saturday at the Tongnoxie High School gymnasium.
"If you utilize your gifts to the best of your ability, you will always find success," Williams told his classmates as a packed house looked on.
Williams, valedictorian for the Class of 2012, shared those words as part of his speech Saturday.
He was one of 160 seniors to officially become a graduate at the evening ceremony.
Class president Brady Field gave the welcome, while the senior ensemble performed Fleetwood Mac's "Landslide" and then joined with fellow Chieftain Singers members to perform "Maybe Someday."
Principal Jamie Carlisle recognized National Honor Society members, as well as those students who carried a 4.0 grade-point average.
Salutatorian Wesley Williams also was recognized and given a medal.
Carlisle spoke to the class praising the students for how they represented the school, including how they rallied for the KCTV5's Cool School appearance earlier this year in which students camped out in the THS parking lot the night before and were at the high school at 5 a.m. for the station's broadcast at the THS gymnasium. On Friday, KCTV5 announced THS was the Cool School of the Year. The school received a check for $2,500 for the selection.
The ceremony ended with the presentation of diplomas and tossing of mortar boards into the air. As has been tradition, seniors handed Carlisle an object as they walked across the stage to receive their diplomas. This year's gift: Salt packets from the cafeteria.
Most seniors finished off the night with a visit to Leavenworth for Project Grad festivities.