Young
BSHS

swim team continues growth down to season's final day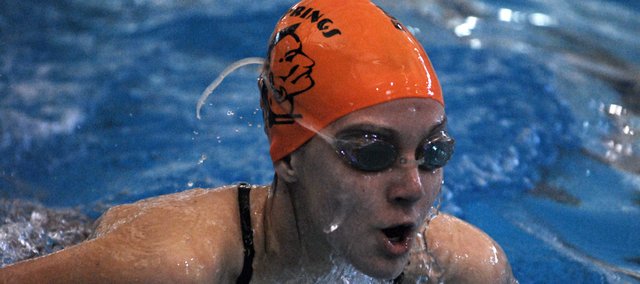 TOPEKA — For Bonner Springs swimming coach Lynn LaNoue, the recently-completed girls swim season was one in which his young team helped stoke some good-natured envy among LaNoue's coaching peers.
Take, for example, freshman Cassie Stock, whose personal best seemed to improve this season each time she hit the water like a torpedo.
"They're mad at me," LaNoue said on Friday at the state swimming and diving meet in Topeka, "because Cassie is fast, and she's a sprinter."
Stock joined her sister, Toni Stock, and fellow freshmen Lei'Onna Smith and Madison Stumbough in the state preliminaries on Friday. And though the Braves didn't reach the second day of action — Bonner Springs placed 23rd overall with 14 points — the event was not without its flashes of brilliance.
A faulty relay exchange disqualified the Braves' 200-yard freestyle relay team on what would have been their heat's top finish. It would have been easy to become frustrated, but because Cassie Stock's opening 50-yard leg counts as an official time, she was able to head home with one more personal best in a season that has seen its fair share.
"It's a lot of commitment on the girls' part," LaNoue said. "It's a long season. It's spring time, there's a lot of distractions like prom and graduation, and Toni's finished with school. It indicates to me that there's a lot of commitment on their part to keep coming to practice."
LaNoue said that another senior, Scintilla Capalla, had also continued practicing as recently as the day before the state tournament, despite having concluded her Braves swimming career.
A pair of 18th-place finishes highlighted the Braves' showing on Friday. In the 200-yard medley relay, the Braves shaved nearly three seconds of their previous best time, finishing at 2:07.67.
Toni Stock later came in at 1:10.31 in the 100-yard butterfly. Each finish gave the Braves two alternate spots for the next day's finals, but a replacement would not be necessary.
Cassie Stock finished the day with a 20th-place finish in the 100-yard breaststroke (1:18.43), the only event in which Bonner Springs came in at a second above their season best time.
If Cassie Stock's personal best in the 200-yard free relay signaled what's still to come for her, her 100-yard breaststroke performance also may have stoked a fire heading into next year.
"I'm just really impressed with the way that she swam with maturity," LaNoue said. "A lot of times freshmen will get really nervous and not just see this as another meet. I thought she just responded really well today."
LaNoue said he'd like to see Stock improve her strength while continuing to build relationships with teammates like Smith, Stumbough and Elizabeth Barger.
Having young, tight-knit group enter next season with state experience will be an asset.
"They've been there," LaNoue said, "that's what matters."
As he prepared to leave Topeka on Friday, LaNoue wasn't finished reflecting on the strides the Braves took down to the final day of its season. LaNoue said Smith has continued to improve at each meet, and Stumbough has come through in the clutch as the medley relay's backstroker.
"They just have all gotten better," he said. "That's why we did so well in the medley. And I was just really excited for them to see them drop three seconds like that."