Five questions: Marble collecting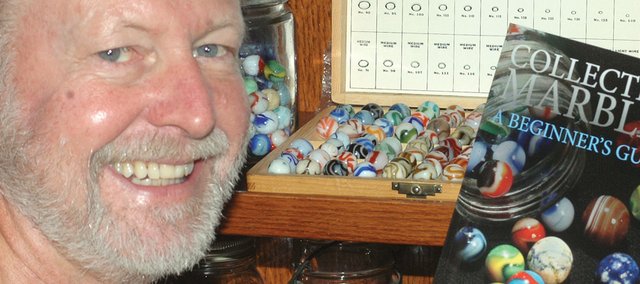 Marbles, those whimsical orbs behind phrases like "knuckling down" and "playing for keeps," pervade our culture. Now, Richard Maxwell, Shawnee, has written "Collecting Marbles: A Beginner's Guide," featuring photos by Clif Hall. Maxwell offers the following insights into the hobby.
Q: How long have marbles been around?
A: Marbles made of rocks and nuts have been found in Egyptian tombs. In 1800s Germany, workers were making glass beads and eyeballs for dolls, and they found children liked playing with them. The marbles scissors were invented in 1848, allowing them to be made faster. They were called German swirls, and the United States became the biggest customer.
Q: Why collect them?
A: People want to find something valuable, and you get addicted. Most look for machine-made marbles from the 1900s to 1950s.
Q: How did you get started?
A: On my birthday 12 years ago, my wife bought me a marble-collecting book. I started going to estate sales, and at one I bought a jar full for $40. I took them to Moon Marble, and the owner looked at one and said, "You've got a corkscrew." That ignited me — the fact you could learn to tell one from another.
Q: Why did you write the book?
A: For people like this 88-year-old man and his wife I met at Moon Marble. They had 30 or 40 jars of marbles and didn't know what they had.
Q: Where do you look for marbles?
A: Antique stores, estate sales, estate auctions. Marbles on eBay cost too much. Almost every one I've bought cost $1 to $10.