Basehor-Linwood adds new girls basketball, wrestling coaches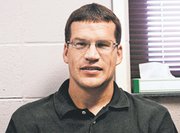 On Tuesday, two new Basehor-Linwood coaches met their athletes for the first time, ushering in a pair of new eras in the athletic department.
After 12 years at Great Bend, Jason Tatkenhorst will replace outgoing girls basketball coach Noah Simpson, who resigned earlier this spring to take a position in Liberty.
Meanwhile, Tyler Cordts is leaving his alma mater of Sante Fe Trail High School to become the new wrestling coach at Basehor-Linwood, at which Cordts has fond memories of competing in the Bobcat Classic himself years ago.
For most of the faculty at Basehor-Linwood, the end of the school year represents a chance to take a breather, maybe get out a town for a while and decompress after a long year. For Tatkenhorst and Cordts, however, the work is just getting started.
"The start of the school year for me will mean that things are finally slowing down," Tatkenhorst said.
Tatkenhorst will be able to spend eight weeks this summer working with his new team in some capacity, figuring out the girls' strengths and determining what style of play will be the best fit.
"If I had my way, we will play a fast-paced game, get up and down the court and play a pressure defense," Tatkenhorst said. "If we've got girls who can press all over the court, then that's what we're going to do."
Tatkenhorst said he'd classify himself as a defensive-minded coach. Through 16 years of coaching — his first four years were spent at Clay Center — Tatkenhorst compiled a 228-128 record, won eight-straight league titles and helped develop a host of future college players. Among Tatkenhorst's former understudies was Nicole Ohlde, who would continue her career at Kansas State University and in the WNBA.
"Basketball doesn't change no matter what level you play," Tatkenhorst said. "It's about the fundamentals. Coaches don't want you if you don't know them."
And with Basehor-Linwood's strength and conditioning program in mind, Tatkenhorst said he will be able to spend more time instilling those fundamentals.
"That's half the battle right there," he said.
Tatkenhorst is also in the process of finding a home in town to move himself, his wife, Stacy, who will be a special education teacher at Basehor-Linwood, and their three boys, Kade and Kurtis, 13, and Kamden, 12. Tatkenhorst said that over the years he had heard of the accomplishments of Basehor-Linwood's athletic program.
"Any time you hear that name, it's pretty well-respected around the state," he said. "When you see a job opening at Basehor-Linwood High School, of course you're going to think about it."
Tatkenhorst and his new team now look ahead to hosting a youth basketball camp June 4-8, one week before conducting a high school camp of their own.
Cordts comes back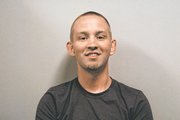 When Tyler Cordts was a 103-pound wrestler at Santa Fe Trail High School, he said the annual Bobcat Classic was always among the season's highlights.
"It was so exciting because that was the tournament to be in," Cordts said. "The competition level was so high and it was so well-run. It's just a great tournament."
Next season, it will be home for Cordts. Cordts also met his wrestlers for the first time after replacing Ed Seaton as head coach. Seaton will remain an assistant coach, alongside Travis Phippen.
"Having two strong assistants like that is so valuable," Cordts said. "I couldn't ask for a better staff than that."
With the program's Kid's Club still in its infancy, and a strong strength and conditioning program to boot, Cordts didn't hesitate when the opportunity became available.
"This is a dream place to be," he said. "Wrestling can really flourish here in this community."
It is a town, Cordts said, that takes a lot of pride in its kids and their school.
"It's a place you want to be at and to teach and coach at," he said.
The focus early on will be building the program's numbers, taking advantage of an athletic crop of Basehor-Linwood students and incoming freshman and to get them accustomed to the mat. One such opportunity will come June 18-20 with a free wrestling camp at Basehor-Linwood open to all ages.
Cordts' coaching career began as an assistant at Central College in Pella, Iowa, where he also wrestled.
Later, he coached at nearby Pella High School before moving to Pomona to be closer to family.
And now, he is on the move again, though not to unfamiliar territory.
"This is a great opportunity," he said. "And I'm ready for all of us to make the most of it."