Bobcats place third in state softball tournament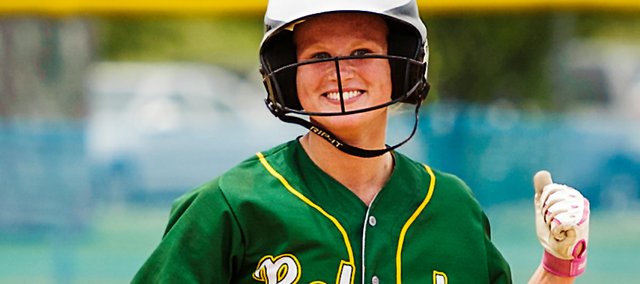 Basehor-Linwood overcame a 7-0 loss to De Soto in the semifinals of the state softball tournament in Salina on Saturday to end its season with a third-place finish later in the day.
Senior Brooke Redmond capped her career with one more complete game on the mound and further production at the plate to help lead the Bobcats to a 5-1 victory against Labette County in the tournament's third-place game.
Redmond ends her Basehor-Linwood career having pitched 26 straight complete games, while recording 29 strikeouts in Salina.
Redmond especially came through against Wamego on Friday, striking out 13 batters as the No. 7-seeded Bobcats upset the No. 2-seeded Red Raiders in the tournament's first round. On Saturday, despite the lopsided score against De Soto, Redmond still struck out 10.
Basehor-Linwood stayed alive in the tournament by scoring what would become the winning run in the top of the seventh inning against Wamego. It began when sophomore Allison Kasick was hit by a pitch and stole second base. She then advanced to third when sophomore Kayleigh Schoenfelder was struck out after the third strike went to the back stop, and the catcher couldn't throw out Kasick in time.
Sophomore Kori Nichols followed with a ground ball to the shortstop, who couldn't get her throw to home in time. Also in Salina, Redmond provided the Bobcats their only home run of the tournament.
Junior Courtney Leive, sophomore Candice Jennings, sophomore Kori Nichols and sophomore Allison Kasick all batted in runs during the tournament, with Kasick leading the way with two RBIs and Jennings notching two doubles.
In what appeared to be one of the most stacked softball brackets in recent memory — three teams were undefeated entering Friday and the average win-loss record of the top seven seeds was 22-1 — senior Hannah Tush, Kasick and Leive led the Bobcats with three hits each.
The run ends the tenure of four seniors — Tush, Redmond, Kortney Rist and Olivia Cowan — who won the 4A state softball title in 2009. Yet while the Bobcats will bid farewell to those four, it will return six mainstays with even deeper postseason resumes entering 2013.
Look for much more on the finale to the Bobcats' softball season in the May 31 issue of The Sentinel and on basehorinfo.com