Bailey leads
BSHS

, Edmonds caps career at state track and field meet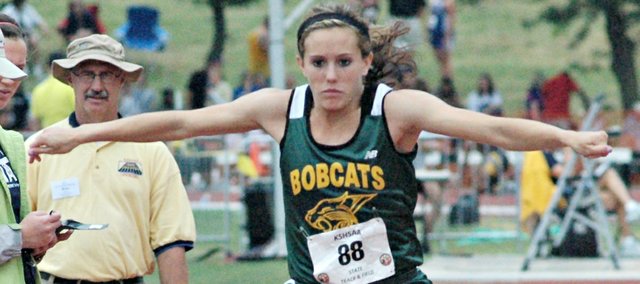 Sending 10 athletes to the state track and field championship meet in Wichita, the Basehor-Linwood Bobcats track team knew it would be a difficult task to pull home any team accolades.
However, the Bobcats did get some impressive performances from individuals on Friday and Saturday with two athletes making the podium.
Senior Dakkota Edmonds proved to be the top performer for Basehor-Linwood. She finished third in the 200-meter dash (26.67) and fifth in the 100-meter dash (12.39).
Edmonds accomplished the feats despite having battled a fever since last week.
Edmonds running career is not over as she will be attending Johnson County Community College to try and put herself in position to become a Division I athlete.
"She had some opportunities at some Division II schools, but she really wants to find out how good she can be," Basehor-Linwood coach Steve Hopkins said.
Also for the Bobcats, junior Ben Johnson placed third in the discus with a school record hurl of 161-5. After besting 150 feet for the first time last week, Johnson continued to extend his range and broke the school record on three of his six throws at the event.
The final top performers for Basehor-Linwood were its 4-x-100-meter relay team (Zac Smith, Lane Young, Trey Kincheloe and Jesse Jones), which placed seventh (44.72).
"It's tough to get to the finals and then it's just tough to place so I was pleased with this group," Hopkins said.
Braves' Bailey peaks at state
Bonner Springs junior Bethany Bailey continued to build off an impressive season Saturday, and she picked the perfect meet to peak. In the 4A state track and field meet in Wichita, she placed second overall in the pole vault with an 11-foot vault.
The other two individuals competing at the state meet in Wichita for the Braves were sophomore triple jumpers Anthony Kubas and Jordan Jackson. Kubas finshed sixth overall and Jackson finished 10th.
In relays, the boys 4-x-100-meter relay team finished 14th, the 4-x-400-meter relay team finished 12th and 4-x-800-meter relay finished 12th.
Corey Thibodeaux contributed to this report.