Basehor library adds summer-reading program for adults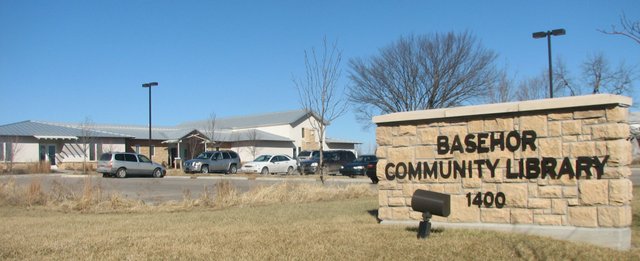 Summer events at the library
Included in the Basehor Community Library's adult summer reading program are summer concerts at Basehor City Park as well as weekly movie nights for adults.
Summer movies: On Wednesdays at 6:30 p.m., the library will screen movies for adults only. Popcorn will be provided. Movies will be at the library, 1400 158th St.
The schedule:
• June 6: "Rear Window"
• June 13: "Big Sleep"
• June 20: "Chinatown"
• June 27: "Strangers on a Train"
• July 11: "The Vow"
• July 18: "Roman Holiday"
• June 25, "Jerry Maguire"
Summer concerts: The library will again sponsor a series of free concerts at Basehor City Park, 15940 Leavenworth Road. The whole family is welcome, concessions will be available from the Basehor VFW Post, and attendees can bring blankets or chairs for seating. All concerts start at 6:30 p.m.
The schedule:
• June 29: Grand Marquis — blues, jazz and swing
• July 27: Lonesome Hank and the Heartaches — harmonica-driven jump blues
• Aug. 3: Band of Confusion — blues and classic rock
Summer reading isn't just for kids anymore at the Basehor Community Library.
For the first time —or at least the first time that adult services librarian Laura Carroll is aware — the library this summer is offering a reading program for adults to accompany the usual ones for children and teens.
Summer is, of course, a big reading season for children, as parents try to keep them occupied and educators hope to keep their brains active while school is out. But Carroll said she'd heard from adult library patrons that it's also a time they like to enjoy a book or two.
"I had someone tell me, 'That's when I read,' " Carroll said.
And the library's circulation data suggest that area adults already are reading more than ever.
During the first quarter of 2011, adults checked out about 8,000 books from the Basehor library. But in 2012's first quarter, that number increased to more than 10,000. And circulation of e-books is increasing, as well.
About four years after the library's new building opened, awareness of all it has to offer is at an all-time high, Carroll said.
"I hope that they're finding what they want to read here," Carroll said.
So inviting grown-ups to the summer-reading party was only natural, Carroll said. And about 60 people have already signed up.
The program centers on mini-review sheets that participants can fill out for each item they read this summer. Though readers can submit reviews for anything at all they'd like to read — books, audiobooks, magazines, even articles online — Carroll said she hopes to file away the reviews with the library's books, showing perusing patrons what previous readers thought.
"If you pick up a book off the shelf and somebody else said it was really good, you're like, 'Oh, I might check that out, then,' " Carroll said.
Each review submitted will serve as an entry in a prize drawing at the end of July. Prizes will be gift certificates from local businesses.
Also included in the program is another new feature for the library — weekly adults-only movie nights on Wednesdays. Carroll said she hoped people might enjoy gathering with other folks to watch a movie intended for grown-ups while munching on popcorn — all for free.
"I'm just kind of seeing what will happen with this," Carroll said.
June's movies will come from the film noir and thriller genres, and July's will be romances.
"I tried to pick films that you might not have seen in a long time," Carroll said.
The library will also again offer free concerts in Basehor City Park this summer, one per month. And, of course, the regular summer reading programs for children and teens are also returning.
Sign-ups for all of the reading programs are available at the library, 1400 158th St., or at basehorlibrary.org.
All in all, Carroll said she hopes Basehor residents find plenty to read this summer.
"You always hope that the people find good stories to read," Carroll said.