Nocturnal adventures abound in summer reading program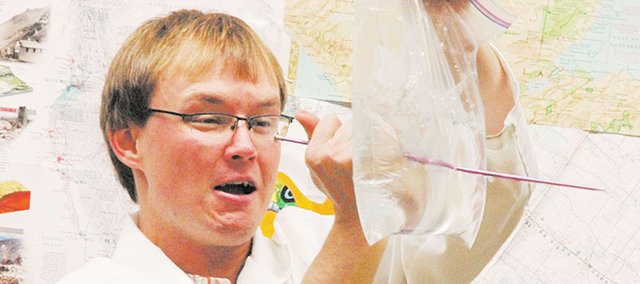 The Bonner Springs City Library hopes to inspire everyone in the community to read and follow their dreams this summer.
The library's summer reading program is themed "Dream Big, Read!" and following the dream theme, many special activities in the program will focus on other nighttime activities, from astronomy to fireworks displays. Jeanne Dunbar, children's coordinator for the library, said that as always, the program goal is to keep children reading over the summer.
"Children lose their reading proficiency over the summer, and they can really fall behind when school starts up again in the fall if they don't read," Dunbar said.
Registration for the summer reading program began Tuesday, and signing up for special programs for June begins at 9 a.m. Saturday, June 2. Sign-up for July programs begins at 9 a.m. Friday, June 15.
Dunbar and Lynn Jennings, library associate, said the library tries to provide a fun program to encourage participation. Readers can earn up to six prizes for a certain number of books read or number of minutes spent reading, shown on their reading logs.
Children readers will be separated into groups named for nocturnal animals: Bunnies (ages 5 and under), Owls (kindergartners and first graders), Alligators (second and third graders) and Bats (fourth and fifth graders).
"It is all about dreaming big, it is about reading, getting lots of ideas to help you follow your big dreams," Dunbar said of the programming.
The "Dream Big" program is organized by the Collaborative Summer Library Program consortium, and Dunbar and Jennings worked together to coordinate programs, many of them reflecting the nighttime theme.
"Anything you can think of to do with night, that's where we're going with Dream Big," Dunbar said.
This is reflected in the first program on Saturday, Astronomy for Everyone, which will be presented by astrophysicist Kevin Manning, who has worked with NASA. He will discuss the stars and the size and scale of the universe.
Saturday's program is also the only program that won't require advance registration, as registration for all June special programs begins that day.
Other night-themed programs include a ten programming about ghost hunting, a program for all ages about pyrotechnics with a local family who owns a fireworks business, and a presentation on rockets from the Kansas Cosmosphere.
Kidscape programs are usually on Thursdays at 2 p.m. and will include topics like aliens and animals of the night with Operation Wildlife.
Some special programs will be presented through the library's Imagination Destination fund, which comes from the library's biennial fundraiser, Jazz on the Lake.
Imagination Destination programs include Pint-Size Polka on June 29, a program that will bring together grandparents and their grandchildren ages 12 and under and a polka master, named Polka Mike, coming all the way from Milwaukee.
There are programs for teens and adults, as well. Teenopolis programs are largely on Mondays, and one teen Imagination Destination program will cover how to draw a comic strip with cartoonist Mike Worley.
Also, for teens who will be middle school students next year, Clark Middle School is offering up to four homework passes for those who participate in the reading program — one for every 90 minutes of reading.
There will be programs especially for adults as well, like Couponing to the Extreme on July 17.
The library also will provide a weekly event for the whole family during the heat of the day with "Family Films at 11" — 11 a.m., that is.
"As we are a cooling center here at the library, we thought it would be cool every Friday this summer to offer a family film," Dunbar said.
Families can bring bagged lunch and the library will provide popcorn and water for a child-friendly film viewing in the meeting room.
The last day to turn in summer reading logs, and the last special program, will be July 28 at 4 p.m. Contact the library for more information, 441-2665.