Dairy Days focusing on Basehor this year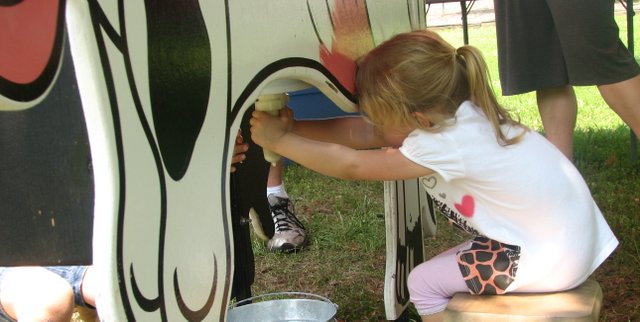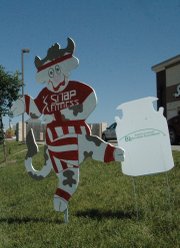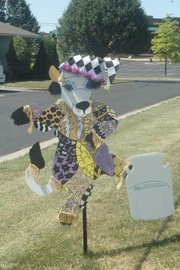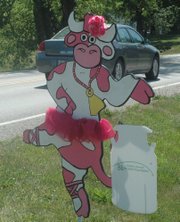 As the cut-out cows springing up around town declare, it's almost Dairy Days time in Basehor.
And if you think you're seeing more cows heralding the annual festival's arrival this year, you're correct. This year's cattle are more colorful, too, as they're part of a new promotion allowing local businesses and schools to get in the Dairy Days spirit.
The cows are breeding a sense of anticipation among Basehor residents this year, festival organizer Lila White said.
"They love those cows," White said.
The cattle are part of a contest designed by the Basehor-Linwood Education Foundation, which awards scholarships and grants each year to students and teachers.
Members of the foundation's board thought a "cattle parade" might rally the community around the festival and raise funds for the nonprofit foundation, said Ashley Razak, the school district's communications coordinator. Razak is part of the foundation's board and the volunteer committee that organizes Dairy Days.
"We wanted to do something that involved the schools," Razak said.
Students from each of the district's five schools decorated a cow, and seven area businesses donated $200 to the foundation for the right to create their own bovine designs. The cattle will be gathered at Basehor City Park for the festival on Saturday, and visitors can vote for their favorites, at the cost of a $1 foundation donation per vote.
Among cows sitting in front of Basehor businesses is one dressed up like workout guru Richard Simmons. It's in front of Snap Fitness off U.S. Highway 24-40. Another one, in front of Sarah's Studio of Dance on Parallel Road, sports a pink tutu, hair bow and ballet slippers.
The colorful cattle are one example of some additional Basehor flavor in the seventh edition of the festival, said White, another member of the Dairy Days committee.
"It revolves around Basehor, our community," White said. "That's why we're doing this."
Dairy Days, which honors Basehor's roots as a dairy farming community, will include more local performers this year, White said.
That includes the Basehor-Linwood Music Makers, a collection of third-, fourth- and fifth-grade singers from the district's elementary schools. They'll perform in lieu of outside musical acts that the committee has brought to the festival in past years.
That will help keep the budget of the festival, which relies on donations, under control, White said.
"This is a festival for our community, so we're trying to draw in more of our people to participate," White said.
Also performing for the first time at this year's festival will be the Leavenworth-based First City's Performers and Story Tellers historical re-enactment group, which will put on an 1800s-style saloon-girl show. They'll also roam the park in character throughout the day.
"Besides the hamburgers and hot dogs that we usually have, we just have a little more offering of food this year," White added.
The park will be filled with the regular festival favorites: games, inflatables, a petting zoo and various vendors. The event is also a big source of donations for youth sports teams and other area nonprofit organizations, White said, and visitors might want to plan to bring some cash to help out.
"They can come out and have fun and then maybe give a few dollars to some of the local sports groups and other groups," White said.
Dairy Days rundown
The seventh annual Basehor Dairy Days festival is Saturday at Basehor City Park, 15940 Leavenworth Rd. Festivities begin at 8 a.m. and run until 4 p.m.
The full schedule:
8-10:30 a.m.: Chris Cakes pancake breakfast (moved back this year for later risers)
10-11 a.m.: USD 458 Music Makers
11 a.m.: Sarah's Studio of Dance performance
11 a.m.: Gunsmoke and Petticoats Old West Show (sponsored by the Basehor Chamber of Commerce)
11:30 a.m.: White Tiger Performance Group
Noon-12:30 p.m.: "Sassparillas and Tumble Weeds" 1800s saloon girl show, First City's Performers and Story Tellers (sponsored by First State Bank and Trust)
1 p.m.: Gunsmoke and Petticoats Old West Show
2-3 p.m.: USD 458 Music Makers
3 p.m.: Gunsmoke and Petticoats Old West Show
Other attractions at the park between 9 a.m. and 4 p.m.:
• Kansas Lions mobile health screening unit • inflatables
• cow milking machine; petting zoo • face painting
• food vendors • pony rides
• craft vendors • milk cans on parade
• Gunsmoke and Petticoats Old West Town • carnival games
• complimentary Roberts Dairy Products • dairy cow


• strolling performers from "Sassparillas and Tumble Weeds"